World Routes Awards 2019 finalists - part one
In the first of a three-part feature, Routesonline takes a closer look at the airports shortlisted in three categories of the World Routes Awards 2019.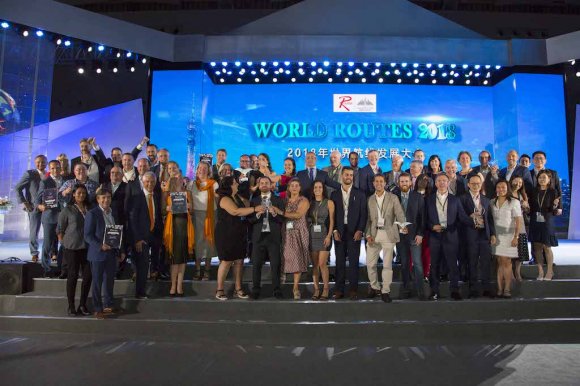 The World Routes Awards, sponsored by Sabre, will take place at the World Routes Networking Evening. The evening will be hosted by the South Australian Tourism Commission (SATC), Adelaide Airport and Tourism Australia.
This week we profile three categories: Under 4 Million Passengers, 4-20 Million Passengers and 20-50 Million Passengers.
---
Under 4 Million Passengers
Billund Airport
Billund Airport enjoyed a ninth consecutive year of growth in 2018, passing the 3.5 million passenger mark for the first time in its history. New destinations added since the turn of this year have included Dublin, Faro, Edinburgh and Krakow, while capacity has been increased on routes to Frankfurt, Manchester, Palma de Mallorca and Vienna among others. As the town of Billund is too small to support any direct air services, the airport's marketing strategy has focused on positioning it as the gateway to west Denmark and a catchment area of seven cities. Billund Airport has invested €6m in incentives to support new routes and capacity increases, with 20 out of 23 scheduled airlines growing their presence in 2018.
Curaçao International Airport
A major accomplishment in 2018 was the completion of its airport expansion project which commenced in 2014. Curacao International Airport's (CUR) new facilities can now accommodate up to 2.5 million passenger movements annually. The airport's efforts during the year focused primarily on retention of its route network closing the passenger traffic gap caused by financial issues at Insel Air and the subsequent restructuring of its regional and domestic route network. In the first six months of 2019, CUR's passenger traffic has grown by 10 percent on the same period a year ago, while the number of aircraft movements has risen by 15 percent. Services to Bogotá, Panama City and Miami have been drivers for the growth.
Florence Airport
Florence Airport (FLR), managed by Toscana Aeroporti, recorded 2.7 million passengers in 2018, a year-on-year rise of 2.3 percent. The airport, whose runway limitations mean that Airbus A319 is currently the largest aircraft operating, has this year attracted six new routes, two new airline partners and a number of frequency increases. The routes added are to Bilbao, Copenhagen, Dusseldorf, Prague, Munich and Vienna, while SAS and Eurowings have started flights to the airport. In addition, Vueling is this month basing a third A319 at FLR. Florence Airport's marketing activities have included airline 'open days', sponsorship of a rock festival and is involved with a special project regarding fighting violence against women.
Nadi International Airport
Nadi International Airport is the main international airport for Fiji as well as an important regional hub for the South Pacific islands. The airport has enjoyed four consecutive years of capacity growth, with the number of departure seats topping 1.5 million in 2018, a year-on-year rise of 8.4 percent. A significant milestone this year was achieved when Qantas began its first-non-stop flights to Fiji in nearly two decades. In March, the Australian flag carrier became the fourth airline to operate flights between Nadi and Sydney, alongside its low-cost carrier Jetstar, Fiji Airways and Virgin Australia. In addition to its own flights to Nadi, Qantas also added its QF airline code on Jetstar's four times weekly service.
Zagreb Franjo Tudman Airport
Traffic increased by 8 percent in 2018 to 3.34 million passengers, boosted by the arrival of three new carriers. Aegean Airlines launched direct flights from Athens in April, while Air Canada opened a route from Toronto in June. In September, Korean Air launched year-round direct flights between Seoul and Zagreb. Offering incentive programmes, providing marketing intelligence and undertaking marketing campaigns have also ensured that existing carriers have been supported. Croatia Airlines launched two new routes in 2018 - to Dublin and Mostar - while Iberia, Aeroflot, Lufthansa and Qatar Airways have increased capacity. Zagreb carries out traffic analysis to assess potential new services and provides detailed analysis for target carriers.
4-20 Million Passengers
Budapest Airport
Passenger numbers have increased by double digits over the last four years, with 2018 recording a rise of 13.5 percent to 14.9 million. The latest forecasts suggest the airport, which was named Overall Winner at Routes Europe 2019, is this year on track to hit 16 million. A total of 34 new routes have been announced or started so far in 2019, including the addition of non-stop service to Shanghai. In recent weeks, LOT Polish Airlines has also opened reservations for a new service linking the Hungarian capital with Seoul and American Airlines has confirmed plans to launch a route to Chicago. Budapest Airport undertakes a range of marketing activities, including organising trade tours, and launched new self-connecting service bud:connects.
Malta International Airport
Over the past five years passenger numbers have soared by 70 percent, with forecasts showing that 2019 will close with a new record of 7.2 million. Connectivity increased by a noteworthy 102 percent during the same time period, and by the end of this year Malta International (MLA) will have been connected to 128 airports in Europe, Africa and Asia. Through targeting new markets, MLA has increased the number of routes to Eastern Europe and Russia, as well as addressing seasonality fluctuations. Its summer 2019 season has been the busiest on record and this winter will see the start of four new routes and the extension of 17. MLA's not-for-profit Malta Airport Foundation has supported seven tourism projects with an investment of over €700,000 in the last five years.
Oakland International Airport
Oakland International Airport (OAK) scooped the Overall Winner award at Routes Americas 2019 after securing a record 11 new destinations and 17 new routes since February 2018. More than 13.5 million passengers departed or arrived the Californian airport last year, a rise of 4 percent compared with the previous 12 months. The figure also marked its highest passenger count since the record year of 2007. So far in 2019 Southwest Airlines has launched two routes to Hawaii from OAK, while new carrier Contour Airlines joined the roster of airlines. From February 2018 to August 2019, OAK provided more than $7m support in the form of waived fees and cooperative marketing funds for the new routes.
Stuttgart Airport
During the past 12 months Lauda has opened a base at Stuttgart Airport with three aircraft and 18 routes and Eurowings has launched five routes. A major white spot has also been filled after airBaltic started a four-weekly service to Riga. Overall passenger volume increased by 7.8 percent in 2018 and growth this year is expected to be 8.2 percent. As well as carrying out a series of marketing activities, such as organising inaugural flight events and launching a networking event for airlines and travel managers in the Stuttgart region, the airport also has an incentive scheme for continental and intercontinental new routes. The programme has been in place for the last four years, providing important financial support for airlines.
Thessaloniki Airport
Thessaloniki Airport (SKG), operated by Fraport Greece, enjoyed a record year in 2018, with traffic growing by 7.1 percent to 6.7 million passengers. The growth trend has continued during the first seven months of 2019, with traffic levels reaching 3.8 million passengers, up 5.9 percent on the same period in 2018. Highlights so far this year include Ryanair launching services to Malta, Manchester, Dublin and Tel Aviv among others, and Wizz Air opening routes to Vienna, London Luton and Kiev. Over the past 12 months, Fraport Greece has introduced a new winter incentive programme to reduce seasonality fluctuations. The incentive offers discounts of €7 per departing passenger.
20-50 Million Passengers
Athens International Airport
More than 24.1 million passengers used Athens International in 2018, a rise of 11 percent compared with the previous 12 months. That trend has continued into 2019, with traffic up by 7 percent between January and July to 14.2 million. The airport, which won the Over 20 Million Passengers category at Routes Europe 2019, secured 62 new routes during 2018 and welcomed four new airlines. Volotea and Ellinair opened bases, while Ryanair started 21 sectors and Aegean Airlines commenced 15 new routes. So far in 2019, 13 new destinations have been added to Athens' network, including Chicago with American Airlines, Casablanca with Royal Air Maroc and Muscat with Oman Air.
Brisbane Airport
Total passenger numbers grew by 1.7 per cent to more than 23.6 million in 2018, with international traveller numbers surging by 4.8 percent to more than six million. Over the past two years it has secured new services from an impressive seven Asian airlines, while other successes have included Emirates adding a third daily flight to Dubai, plus strong growth in direct capacity to Taiwan by EVA Air and China Airlines. Named Overall Winner at Routes Asia 2019, Brisbane Airport's new runway will open in 2020, allowing it to offer the most available capacity of any airport in the southern hemisphere. Australia's flag carrier Qantas will also open routes from Brisbane to Chicago and San Francisco before the end of April.
Brussels Airport
In 2018 Brussels Airport crossed the 25 million passenger barrier for the first time in history and expects to welcome 26.5 million this year. Thirteen new destinations have been launched or confirmed in 2018 and 2019, including long-haul services to Hong Kong and Shenzhen alongside short- and medium-haul cities like Pisa, Amman and Tbilisi. Airline marketing support has included a new destination and passenger growth incentive scheme that rebates on the passenger charges. Incentives in 2018 amounted to €9m. The airport, which scooped the Overall Winner award at World Routes 2018, also provided €2m for 25 on-site advertising campaigns, 13 financial contributions and 15 airline inaugurals and events.
Fukuoka International Airport
Fukuoka Airport (FUK) is the fourth largest airport in Japan, with 24.6 million passengers in 2018. After a consortium that includes Singapore's Changi Airports International and Mitsubishi Corporation won a 30-year concession to operate the airport in May 2018, a new strategy was put in place to grow traffic. Since then the airport has secured a number new routes, including AirAsia X's Kuala Lumpur service which was marketed with a cheeky 'where the FUK are we flying to?' campaign. Other successes have included Hawaiian Airlines' plans to launch a non-stop service from Honolulu, beginning later this year. A new low-cost carrier terminal will be built by 2025 to further stimulate traffic from budget airlines.
Vienna International Airport
Vienna Airport (VIE) was one of the fastest growing airports in Europe in 2018, with a 10.8 percent increase in passengers to 27 million. The main drivers for the growth have been new routes and upguages by Austrian Airlines, Lauda, easyJet, Wizz Air and LEVEL. In the first half of 2019, the strong performance has continued with a 23.9 percent leap in traffic, putting the airport on course to hit 30 million passengers this year. Since summer 2018, seven new long-haul destinations have been added, including Tokyo Narita, Cape Town, Guangzhou and Montreal. New airlines receive full organisational and press support for their inaugural flight, while a number of incentive programmes are offered to strengthen the hub function of VIE.