Budget airline specialist to back Wow after Icelandair abandons deal
Just hours after Icelandair called off its takeover of fellow Icelandic airline Wow air, the parent of US carrier Frontier Airlines has agreed in principle to invest in the low-cost carrier.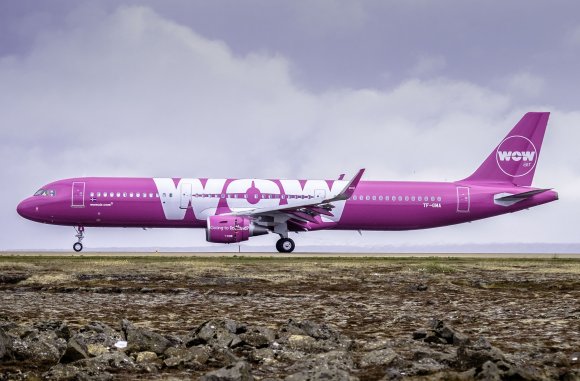 Private equity firm Indigo Partners is set to invest in low-cost carrier Wow air following the collapse of Icelandair's proposed takeover of its Icelandic counterpart.
A deal has been agreed in principle and the two parties hope to close the transaction "as soon as practicable". Skúli Mogensen, Wow's chief executive and founder, will remain a principal investor following completion.
Details of the proposed investment were announced just hours after Icelandair confirmed that its planned takeover of Wow had been abandoned as the two parties were unable to meet the conditions for the purchase.
Mogensen said: "The demand for low-cost air service continues to expand rapidly worldwide, and with Indigo as a partner, we hope to take full advantage of this highly attractive market segment." He added that the deal was the "best long-term move" for its staff and passengers.
Indigo Partners is led by managing partner Bill Franke, an aviation industry veteran. The firm currently owns Frontier Airlines and has stakes in JetSMART in Chile, Mexico's Volaris and Wizz Air of Hungary. It previously was a lead investor in Tiger Airways based in Singapore and US carrier Spirit Airlines.
"Skúli and Wow's management and employees have done a remarkable job in creating a well-regarded, successful ULCC brand," Franke said.
"We have a strategic vision for the airline, and look forward to working with its employees and agents to deliver that vision."
In November 2017, Indigo Partners placed a huge order with Airbus for 430 additional A320neo Family aircraft. The deal, which was the most planes ever sold by Airbus in one batch, comprises 273 A320neos and 157 A321neos.
Speaking at the time, Franke said the order underscores the firm's "optimistic view" of the growth potential of its family of low-cost airlines.
Earlier this month, Icelandair had agreed an all-share deal with Wow that would have created a powerful force on Europe to North America routes via their Reykjavik hub.
However, after warning that it would be "unlikely" that all of the conditions in the purchase agreement would be fulfilled by 30 November 2018, Icelandair decided to end its takeover attempt.
Nils Bogason, interim president and chief executive of Icelandair, said the board of directors and management of both companies worked on this project "in earnest" and it was "disappointing" the deal could not be completed.
This week it also emerged that Wow is sending two Airbus A320 aircraft and two Airbus A330 jets back to their owners. It said the move was "part of necessary restructuring" of the airline and to ensure maximum utility of its remaining fleet.
The fleet reduction came as Wow cautioned that its results for the fourth quarter of its financial year are "materially worse than originally anticipated".
In a letter to investors, Mogensen said "a number of external and internal events have unfortunately worsened significantly" since a bond issue in September. He blamed the negativity surrounding Primera Air's collapse in October for worsening an already challenged situation.
Wow, which began operations in May 2012, has grown rapidly in recent years by pursuing a transatlantic connecting strategy, similar to that of Icelandair, stimulating demand with its low-cost seats. In 2018, the carrier has a 30.1 percent capacity share of departure seats from Iceland, with Icelandair commanding a 40.9 percent share.
Among Wow's top ten destinations from Reykjavik by capacity during the first half of 2018, six were in North America and four in Europe.
Of the ten, the airline competed with Icelandair on nine of them and had a dominant position by capacity on four (Baltimore Washington, Toronto, San Francisco and Dublin). It also was the only operator on Reykjavik - Los Angeles.
However, the strong competition between Wow and Icelandair has put financial pressure on both carriers.
In October, Wow opened reservation for its third route to Canada, with five weekly flights from Reykjavik Keflavik to Vancouver set to begin in June 2019. It will compete on KEF-YVR with Icelandair, which began a seasonal service in May 2014 and now operates the route year-round.
The planned new route to Vancouver comes as WOW is scaling back some US routes, ending service to three cities. Flights to Cincinnati and Cleveland ended in October while service from St. Louis will be discontinued in early January.
However, the carrier is pushing ahead with its first route to India, with three weekly flights from Reykjavik to Delhi set to start on 6 December 2018. Mogensen hopes Wow can turn Reykjavik into a hub for Asia-North America traffic.