United modifying E175s to operate with 70 seats
The move is necessitated by provisions in United's labor contracts with pilots.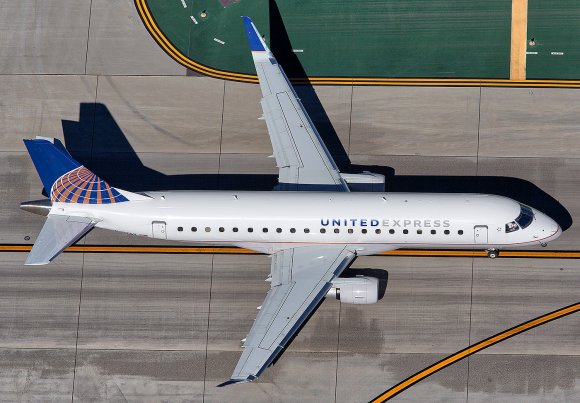 United Airlines is removing seats from a host of Embraer E175 regional jets, as it looks to align its future fleet with pilot scope clause restrictions ahead of planned furloughs this fall.
Chicago-based United's current pilot contract restricts the number of 76-seat jets its regional affiliates can operate, which is intended to limit the amount of mainline flying that can be outsourced to junior airline partners. But with up to 3,900 pilots facing potential furloughs on Oct. 1, the carrier must shrink its fleet of 76-seaters to satisfy furlough protection provisions included in their collective bargaining agreement.
"Work is already underway to change our aircraft from 76 to 70 seats, and it is indeed about following the guidelines set in the pilot contracts," United spokesman Frank Benenati said in an emailed statement.
United recently unveiled two new configurations of its E175 jets, which typically have 12 seats in domestic first class, 16 in premium economy and 48 in standard economy. The two modified cabins both reduce the total seat count to 70 seats; one version doubles the size of the premium economy class to 32 seats, while the other simply subtracts six seats from coach.
United last had 79 E175s in its regional fleet, operated by Mesa Airlines, Republic Airways and SkyWest Airlines under the United Express brand.
The fleet modifications reflect a view by management that involuntary furloughs are inevitable, even if Congress were to successfully negotiate an extension of the CARES Act Payroll Support Program, which barred carriers from involuntary furloughs for a six-month period in exchange for billions of dollars in aid.
The prospects of such an extension have dimmed, however, after negotiations between Congressional Democrats and the White House over a new coronavirus stimulus package broke down late in the week ending Aug. 7. While a last-minute deal could still come together in September, lawmakers would first have to bridge significant gaps on several thorny outstanding issues related to unemployment benefits and aid for state and local governments.
The modifications are also reminiscent of previous changes made to United's fleet of 70 seat Bombardier CRJ-700 jets, several dozen of which were rebranded as the CRJ-550 after the airline stripped 20 seats from the planes and inserted first class cabins late last year to comply with scope clause restrictions.
Photo credit: Joe Pries