Richard Stephenson appointed as Global Airlines Board Director and Chief Commercial Officer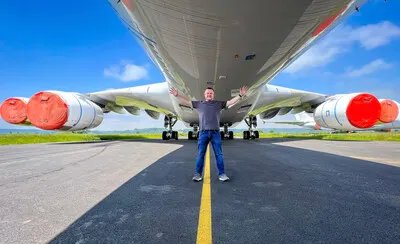 Former UK CAA Director takes on instrumental role to launch airline Stephenson will deputise for CEO, James Asquith, and lead commercial and operational development
Global Airlines, the world's newest long-haul airline, has announced the appointment of Richard Stephenson OBE as a board director and chief commercial officer. Stephenson, who has been advising Founder and CEO, James Asquith, since last summer, has now taken up a fulltime post within the business, with more senior appointments imminent.
Stephenson started his career on an industrial placement at British Airways in 1998 and describes his role with Global Airlines as 'a dream come true'. He spent six years as a director of the UK Civil Aviation Authority, during which he managed some of the biggest crisis situations to hit the sector and vigorously defended consumer rights.
James Asquith, CEO and Founder of Global Airlines said, "I could not be more delighted to welcome Richard to our team. His leadership and vast aviation experience, not to mention his communications, political and consumer background, makes him an invaluable addition to the Global team as we prepare to launch our transatlantic services next spring. We've now acquired our first aircraft, with more to follow soon, and Richard will be instrumental in leading the team responsible for getting us ready to take to the skies."
Richard Stephenson said, "James' vision for Global Airlines is compelling and this is the most exciting role; indeed a dream come true. As the aviation industry continues to thrive, our ambition is to offer passengers the very best service and experience. As aviation lovers, we are committed to bringing the very best to the sky and working with our amazing partners, we will do just that. We have built an excellent team and we are on the cusp of making a number of exciting appointments and announcing some game changing partnerships that will really demonstrate our ambition and determination."
Global Airlines plans to use its fleet of owned A380 aircraft to reinvigorate the flying experience, courtesy of the unrivalled spaciousness offered by the super jumbo. Global Airlines is poised to revolutionize the travel industry and establish itself as the preferred choice for long-haul travel. The airline is now in advanced discussions to acquire three more A380 aircraft and is expected to announce more hires and a crew recruitment drive in the weeks ahead.
Global Airlines is now focused on working closely with the relevant authorities and partners in preparation for inaugural flights in the Spring of 2024.
About Global Airlines
Global Airlines was launched in 2023 with an aspiration to offer passengers the best way to fly. The airline is a wholly owned subsidiary of Holiday Swap and headquartered in London, United Kingdom. The airline is led by CEO James Asquith and backed by aviation experts and investors around the world. The airline has commenced an aircraft acquisition programme with one A380 secured and more to follow in the summer of 2023. The inaugural transatlantic flights are expected in the Spring of 2024.
About Richard Stephenson OBE
Richard Stephenson is an award-winning executive who has served at and advised Board level operations across business, politics, charity and regulation. Richard undertook an industrial placement at British Airways in 1998 and went on to develop his career in the City of London. In 2015, Richard joined the UK Civil Aviation Authority as an executive committee director and attending member of the authority's Board. In six years at the regulator, Richard led the award-winning strategic communications function and directed the response to some of the biggest crisis situations to face the aviation industry. Richard has advised a number of aviation companies on a range of strategic issues. He was appointed an Officer of the Order of the British Empire in the Queen's New Year Honours in 2019 for his public and charitable service and was named 'Communications Professional of the Year' by CorpComms Magazine in November 2019. He is a Life Fellow of the Royal Society for the Arts. In 2004 he was nominated by the US State Department to join the prestigious 'International Visitors Leadership Programme' in Washington DC. He has around 40 hours of supervised flying time, mostly in Cessna aircraft, and is hoping to get his PPL one day.