The A380 was nearly extinct. Now a new airline says it's building a superjumbo-only fleet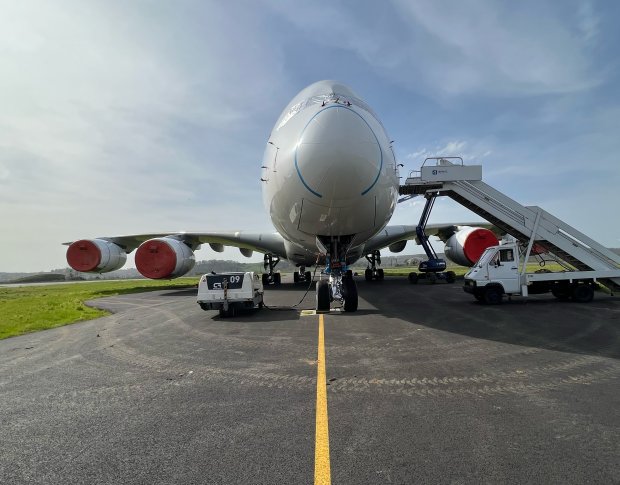 CNN — The pandemic almost killed it and its production ended sooner than anticipated in 2021, but the A380 simply refuses to die.
With more and more superjumbos soaring back into the skies amid a post-pandemic resurgence in commercial aviation, the aircraft is back in the spotlight as one new airline is built around it.
Global Airlines, a British startup that aims to offer transatlantic flights starting next year, has acquired a 16-year-old A380 as the inaugural aircraft of an all-A380 fleet — at least initially — and is in the process of refurbishing the plane to its own specifications.
It's a rare used-market move for an aircraft that passengers adore but that airlines have struggled to turn profitable due to its operating and maintenance cost, as well as its huge size.
"It's a fantastic aircraft when you use it in the right way and on the right routes," says Global Airlines CEO James Asquith. "We will be looking to invest significant amounts on refurbishing the A380 we already have and the future ones that we're looking to bring into the fleet."
Asquith previously founded Holiday Swap, a home-swapping travel platform which is also Global's parent company, and he holds the Guinness world record for the youngest person to visit every country in the world.
"I've flown on about 280 different airlines and sat there seeing what's good, what doesn't work and what can be improved," he says. "We've structured this in a way that financially allows us to do a lot of the exciting things that no new airline that isn't government-funded has been able to do in the last 40 years."
How much did it cost?
The purchased A380 was among the earliest ever made and was originally delivered to Singapore Airlines in 2008. After 10 years of service, Singapore ended its lease agreement with the aircraft owner, German aircraft trading company Doric, which then leased it to Portuguese charter operation Hi Fly. It was then marketed as the only A380 in the world available for charter.
The plane then flew with a handful of airlines, including Norwegian, Madagascan Airlines and Air Senegal. In mid-2020 Hi Fly partially converted it to cargo, hoping to benefit from the peak in demand for air freight brought on by the pandemic. However, in late 2020, the Portuguese company ended the lease and returned the A380 to Doric.
Since then, the aircraft had been waiting for a buyer at two French airports, in Toulouse and Lourdes, which have specially designed areas for long-term storage.
Airbus built 251 A380s – far fewer than the 750 it originally hoped to make – and retirement has certainly started early for this model compared to what's typical for a widebody aircraft – around 20 to 25 years. The first one was scrapped in 2019, just 12 years after the first commercial flight.
Its second-hand market is almost non-existent and used A380s have always struggled to find buyers. Global Airlines is the first new airline to operate the A380 since All Nippon Airways in 2019, and the first ever to do so with a used aircraft.
"Not all A380s are the same," says Asquith when asked why he picked this particular A380 among those that were up for sale. "And we're not just looking at the cabin or the interiors for that, but also the maintenance side of things, how new is the landing gear, and most importantly, the engines."
Global and Doric are not disclosing the sale price beyond the fact that it's "eight figures."
According to Rob Morris, head of consultancy at aviation analytics firm Cirium, the value of the plane is linked to its maintenance condition, and can be as little as $10 million, if every component is fully run-out, and as much as $40 million, if the aircraft is in perfect shape.
Either way, Global will have to spend more money to refurbish the plane, which has already been painted in its new livery, and make it fit for passenger service, meaning the final price tag could easily run in the $50 million range, Morris argues.
That's still quite a bargain compared to the A380's list price of $450 million, for a brand new aircraft, in 2018.
Flying in style
Starting an airline is a challenging business proposition and doing it with an A380 fleet even more so, as the aircraft's economics have proved to be less than ideal for many of its operators.
Air France was the first airline to retire its entire fleet, in May 2020, and 17 A380s have already been scrapped (formerly with Singapore, Qantas, Emirates and Air France itself). UAE flag carrier Emirates is the only airline that has managed to make the plane flourish, and is by far the largest operator, having ordered nearly half of all the A380s ever built.
"A lot of people have written about whether the A380 has got another life, but the reality is that the only life it had in the first place was with Emirates," says Asquith. "They've known how to use the aircraft phenomenally. Big plane does not equal lots of seats. It's more what you can offer on the product."
But Global isn't taking too many cues from Emirates; for example, it won't offer a premium economy class, which the Middle Eastern carrier has recently added to over 60 of its existing A380s.
"I've never personally been an advocate of the premium economies of the world for many reasons — the economics of it work fantastically well for airlines, but not very well for passengers," Asquith says.
"As someone who is primarily a passenger before being a manager of an airline, I want a better product across the Atlantic and that's why we're doing what we're doing."
Instead, Global will focus on a three-class cabin with regular economy, business and first class. Gone are the plans for a "gamer class" — seats equipped with Xbox and PlayStation consoles — which the airline was mulling about last year, but economy is going to get special consideration, as it "really hasn't had enough evolution in the past 30 or so years," Asquith says.
The airline will be based at London's Gatwick airport — suggesting a non-business target demographic — and primarily run transatlantic routes with North America, starting with New York and Los Angeles. There's a plan to expand to other UK cities too, which Asquith says are drastically underserved, and he hopes to launch in spring 2024, with at least two A380s in operation.
The CEO is also quick to dismiss any similarities with previous, and unsuccessful, transatlantic startups such as Norwegian and Wow, and current ones like Norse, which operates a fleet of 10 Boeing 787s offering flights from European cities including Oslo and London to half a dozen US destinations, as well as Jamaica, Thailand and Barbados.
But while Norse — and competitors such as Play from Iceland and Fly Atlantic from Northern Ireland — position themselves as low-cost airlines, Global seems more inclined to offer a curated product to discerning travelers, with maybe even a touch of nostalgia for times past.
"Having a race to the bottom in terms of price isn't necessarily beneficial for the longer-term growth of the industry," Asquith says. "Price competition should also be matched with an increase in quality. We think that there's a big opportunity to create a product on board that is not as dense as some of the carriers. It is magical that you can go and fly between continents in six to eight hours, and I think we shouldn't forget how special that is."
Chances of success
According to analyst Rob Morris, it's not going to be easy for Global Airlines to fill the 484 seats it plans to configure its A380s with.
"The A380 is an aircraft for flag carriers with a few very dense routes and a certain cost and revenue profile," he says, "But for secondary markets, we never thought it would have much success, in the same way the 747-400 never had much success as a passenger aircraft. I'm struggling to see what Global can see that others have not seen in the past. It's a very brave move. It's going to be very costly. I wish good luck, of course, but I just find it hard to see a success scenario for the airline."
"Starting up a new, very small international airline has certainly been done before, with no examples of success," says Richard Aboulafia, an aviation analyst at AeroDynamic Advisory.
"They go after a few routes, and even if they somehow get any traction, they're easily crushed by the big players. It's far easier for a successful, low-cost domestic carrier to expand into international routes, as JetBlue is doing."
Asquith is aware of these challenges, but he seems convinced that the exact combination of factors that make up Global Airlines, from the choice of aircraft to his personnel — he recently appointed former US Air Force and UK Civilian Aviation Authority officials to key roles — are positioning him for success.
"If you look back at four years ago, let's say, most new airlines would lease a very old aircraft and have a product that genuinely isn't a head turner at the start," he says. "But we live in a bit of a different environment now, where aviation commentary is quite viral and people have a lot of opinions.
"The very key thing that we obviously want to be doing is putting out a very strong product to start with and one that we think is the best across the Atlantic. A smaller aircraft would just not be what we are as a brand."
He adds that Global can "fill that aircraft probably 65% and still be fine," and that people really go out of their way to fly on an A380. The plane is continuing to enjoy a steady post-pandemic comeback, with 141 A380s – about 60% of the remaining global fleet – currently in service with nine airlines.
The latest to reinstate it in its schedule is Lufthansa, whose inaugural Munich to Boston A380 service was among the most tracked flights of the day on Flightradar24.
Overall, Asquith appears to be invigorated, rather than spooked, by criticism: "When I went and visited every country in the world, every single person including my parents told me it was impossible to do," he says.
"I think everybody needs to understand that we're doing this to create jobs, to create competition and a better product. Why would people not want that?"