President Bill Clinton and Secretary Hillary Clinton Join Gov. Mike Beebe and Other Dignitaries to Dedicate Airport, Celebrate New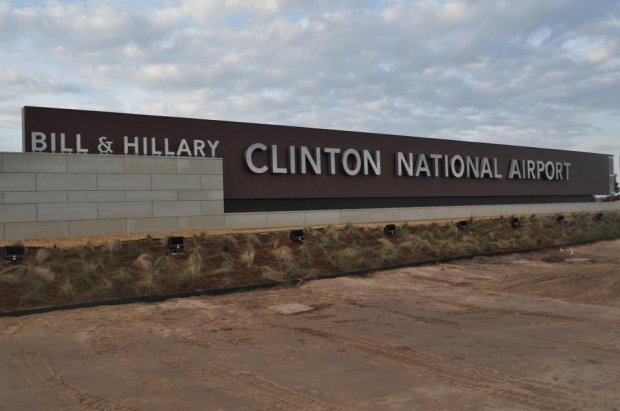 Thousands attend dedication ceremony at Bill and Hillary Clinton National Airport to honor couple and unveil a new state-of-the-art ticket lobby and baggage system
LITTLE ROCK, Ark. (May 3, 2013) The Little Rock Municipal Airport Commission and staff of Bill and Hillary Clinton National Airport welcomed thousands of Arkansans today to celebrate the airport's renaming in honor of President Bill Clinton and Secretary Hillary Rodham Clinton and unveil a new ticket lobby and baggage screening area.
President and Secretary Clinton and city and state dignitaries, including Gov. Mike Beebe, Congressman Tim Griffin, Sen. Mark Pryor, Sen. John Boozman and Little Rock Mayor Mark Stodola, spoke at a dedication ceremony near the airport grounds. Little Rock Municipal Airport Commission Chairman Kay Kelley Arnold welcomed guests and spoke of the Commission's unanimous desire to honor the Clintons through the renaming of the airport last year.
"Last year, the Little Rock Municipal Airport Commission voted unanimously to rename the Little Rock National Airport to Bill and Hillary Clinton National Airport," Arnold told a crowd of more than 2,000. "That was truly one of my proudest days as chairman of the Commission. The Clintons have given so much to our city and state that it was only fitting to name this airport in their honor. We are pretty certain that this airport is the only airport named after a President and First Lady and Secretary of State! Now that's something to be proud of!"
Arnold highlighted the completion of the airport's Phase 1 renovations – part of Clinton Airport's Vision 2020 plan to update and expand the airport in hopes of becoming an international airport in the future.
"I first flew out of this airport when I was in college, almost 50 years ago. So it always symbolizes freedom to me," President Clinton said. "I could go somewhere else, see something else, but not lose my attachment to home. Thanks to this airport, we are always able to find our way back home."
"This is a profoundly deep honor for me to be here for the naming of this airport that has played such a role in my own life," Secretary Clinton said. "To know that it is expanding with a vision for 2020 which can only continue to provide more impetus and opportunity for Little Rock and for the state to grow and create more jobs and more possibilities for more people; those that are here and for those that will be attracted here."
The new ticketing lobby allows for large, open spaces that provide visitors with more room to explore the airport. The new state-of-the-art baggage system is now "behind the scenes" out of passenger areas and features high-tech screening capabilities.
Phase 1 of the Vision 2020 Plan, which was completed this week, includes a $67 million project to construct a new in-line baggage system, expansion of the security checkpoint, relocation of the airport communication center and expansion/renovation of the ticketing lobby among other items. This is the first major update to the ticket lobby since 1972. The new, modern lobby features natural light, photography of Arkansas' beauty and use of finishes found in The Natural State.
Other improvements in Phase 1 include:
Passenger screening checkpoint improvements
New communication control center (including dispatch center, etc.)
Relocation of valet parking
Concourse restroom renovations
Administration renovations (to consolidate departments into a central area)
Multi-user Flight Information Display System
Energy-saving upgrades
Airport entrance sign
Today's dedication officially presented the new ticket lobby to dignitaries, guests and passengers. The Airport Commission and dignitaries were entertained today by the Philander Smith Choir, Parkview High School Choir and the 106th Army Band.