Chopin Airport begins the winter season and proposes new routes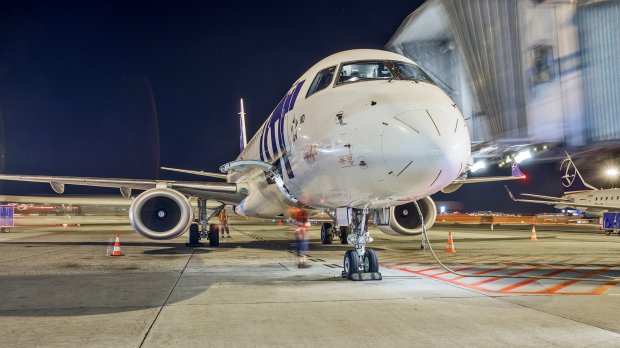 Chopin Airport has started a new winter season. A lot of interesting regular connections have been prepared for passengers.
On October 27th, LOT Polish Airlines introduced direct flights from Warsaw to Bydgoszcz, which is a tempting proposition for a quick weekend trip. 10 flights a week were planned, which were adapted to allow convenient transfers for passengers from the largest city of the Kuyavian-Pomeranian Voivodeship in Warsaw.
On November 3, regular flights to Colombo in Ceylon (three times a week) will start and at the beginning of next year, a LOT will open another connection – this time to the new Beijing airport Daxing (opening of the route on January 16, 2020, four times a week).
Thanks to Wizz Air from October 29th (three times a week) we will fly to the port city of Eilat (change of airport from VDA to ETM). And from January 11th, 2020, we will be able to fly to more skiing destinations: Grenoble, Turin and Verona (flights once a week). But it is not everything. On December 18th, Wizz Air will also open a new connection to Edinburgh (four times a week). It is also worth mentioning that in the winter season Qatar Airways will replace Airbus A320, A330 on Airbus A350 and Boeing 787-800.
There will also be new interesting charter connections. LOT will offer flight to Goa, on the west coast of the Indian Peninsula (start on November 21th, once a week). Mentioned Goa is not the only offer for people who want to change the winter weather to much warmer climates. For the first time this winter season, you will be able to fly (Boeing 767 Blue Panorama Airlines) from our airport to the Maldives on flights for the ITAKA travel agency. And what other destinations in the winter season should be the most popular? Traditionally, the most touristic ones: Hurghada, Marsa Alam, Punta Cana, as well as Mombasa, Las Palmas, Tenerife, Antalya, Sharm El Sheikh, Agadir and Funchal.
But entering the new season is also a good time to summarize the summer period. Below we present a list of the ten most popular destinations chosen by passengers of Chopin Airport in the completed summer season.
TOP 10 passenger destinations in charter traffic:
1. Antalya - 209 799 passengers
2. Burgas - 79 427 passengers
3. Hurghada - 69 847 passengers
4. Rhodes - 67 278 passengers
5. Heraklion - 60 638 passengers
6. Bodrum - 55,896 passengers
7. Kos 53 880 passengers
8. Zakynthos - 48 015 passengers
9. Marsa Alam - 42 164 passengers
10. Chania - 40 668 passengers
TOP 10 passenger destinations in total traffic (regular and charter flights):
1. London - 531 434 passengers
2. Paris - 298 768 passengers
3. Kiev - 288 806 passengers
4. Amsterdam - 287 337 passengers
5. Frankfurt - 282,375 passengers
6. Tel Aviv - 255,460 passengers
7. Brussels - 240 379 passengers
8. Vienna - 211 878 passengers
9. Antalya - 209 799 passengers
10. Kraków - 202 446 passengers