Mactan-Cebu International Airport welcomes Taipei service by STARLUX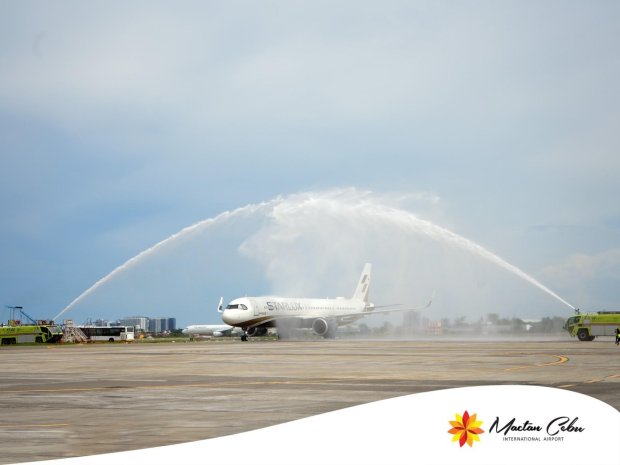 GMR MEGAWIDE Cebu Airport Corporation (GMCAC), together with the Mactan-Cebu International Airport Authority (MCIAA), officially welcome STARLUX Airlines with its inaugural flight from Taoyuan International Airport today.
Beginning 17 January 2023, STARLUX Airlines commences its daily flights to Taipei from Mactan Cebu International Airport using a 188-seater Airbus A321neo arriving MCIA Terminal 2 at 1:05 p.m. and departing for Taoyuan International Airport at 2:05 p.m. PST.
With the upcoming Chinese New Year, STARLUX Airlines offers more options for passengers to visit Taiwanese tourist attractions with the addition of this new service.
"The addition of STARLUX reinforces our commitment in establishing more connectivity for our passengers and the luxurious experience that STARLUX offers also helps us in bring more options and better passenger experience. We are grateful and looking with much anticipation as we welcome STARLUX into our network," said Rafael Aboitiz, GMCAC Director.
An inaugural ceremony was also given to passengers departing for Taipei with a cake-cutting ceremony and a water cannon salute.
"It is with much delight and gratitude to welcome STARLUX Airlines to MCIA with its Cebu to Taipei service. The expansion of STARLUX route to Cebu gives us an avenue to attain our goal of recovery and establishing wider connectivity," said MCIAA General Manager and CEO Julius Neri, Jr.
STARLUX is the newest Taiwanese international airline company with headquarters in Taipei, Taiwan. The airline now serves 15 routes including Tokyo, Osaka, Fukuoka, Okinawa, Sapporo, Macau, Penang, Kuala Lumpur, Bangkok, Singapore, Ho Chi Minh City, Da Nang, Hanoi, Manila, and Cebu. With the recent delivery of its A350-900XWB, STARLUX will further expand its routes to North America, giving Cebu additional connection to North America.
With the addition of STARLUX, MCIA now has 14 foreign and 4 Philippine-based airline partners and connecting to 26 domestic and 10 international destinations.