Colombia has the best tourism website in the world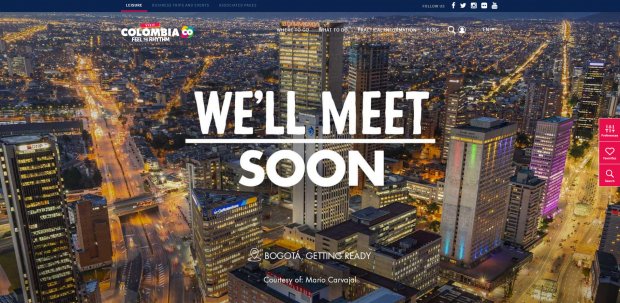 The country's official tourism website led by ProColombia won the Webby People's Voice Award through massive online voting in more than 70 countries.
The results are in from the massive worldwide vote, and Colombia.travel won the Webby People's Voice Award as the best tourism website in the world in the Travel category. The Webby Awards were founded in 1996 by the International Academy of Digital Arts and Sciences in the United States and are held annually to recognize the best online projects.
The website led by ProColombia to promote the country as a tourist destination surpassed the number of votes received by Conde Nast Traveler, one of the most important travel emporiums in the world; Tall, True & Tangled, the Canadian province of Newfoundland and Labrador's website; Earth Viaggi, an Italian tour operator, and The Culture Trip, the London travel agency.
The Webby People's Voice Award broke records in 2020 with 2.5 million votes registered in the 70 participating countries, according to its organizers.
"Thousands of people voted and chose our tourism portal as the best in the world. Receiving this award as a nod from people around the world ratifies that our country continues to headline as a tourist destination at the international level. We continue working to innovate and maintain high standards of excellence in our communication tools such as Colombia.travel, an original and creative website that provides information on what international travelers need to know. We will meet soon to experience all that our country offers to travelers," remarked Flavia Santoro, president of ProColombia.
The website has three sections: holidays, business tourism, and business interests. Colombia.travel was recently redesigned and its new layout makes navigation more intuitive. It also integrates the latest technologies, such as Web App and AMP that allow users to save topics as favorites and activate notifications, as well as tools based on the traveler's needs and preferences.