Dance classes exported to the rhythm of salsa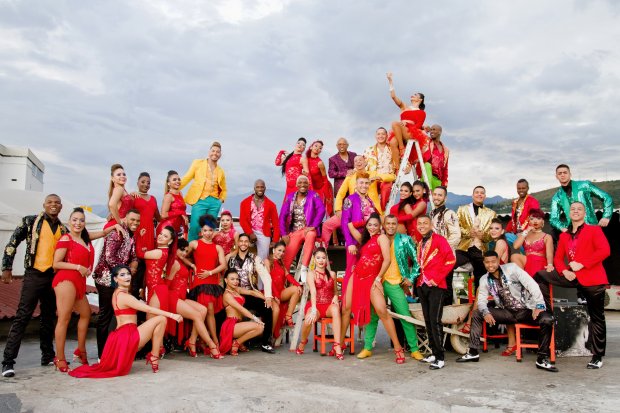 El Mulato y Su Swing Latino Artistic Company—who performed in the 2020 Super Bowl halftime show alongside JLo—decided to reinvent itself during the pandemic, offering salsa classes to students from various countries, including the United States, Mexico, and Spain. The group's aim is to successfully enter the European and Asian market, with the support of ProColombia.
From the west Cali neighborhood of El Cedro, bilingual teachers from El Mulato y Su Swing Latino Artistic Company give virtual salsa classes to students from 6 countries for two hours per week.
"Due to the pandemic, at the end of March we decided to do an open salsa class on Facebook Live with Luis Eduardo Hernández—better known as El Mulato—who is a true icon of Cali-style salsa. More than 1,200 people from around the world, including Spain, the United Kingdom, the United States, Mexico, Peru, and China, were connected. That event prompted the idea to reinvent ourselves and begin exporting our salsa classes to the world," stated David González Zambrano, sales executive for El Mulato y Su Swing Latino Artistic Company.
This group—based in Valle de Cauca and created over 35 years ago—gained major international recognition this past February by dancing at the 2020 Super Bowl halftime show alongside Puerto Rican singer JLo.
Currently, over 40 students pay a monthly fee of US $25 to receive instructions and assignments from the teachers, along with a recording of the class in order to continue rehearsing and fine-tuning their dance steps. "In our tours around the world, we realized that our show and our collective energy was well-received in Europe and Asia; this led us to focus on recruiting more students from these regions. Both Europeans and Asians are curious and interested in learning more about Latin rhythms," stated González.
González also mentioned that they are working with ProColombia to make more international contacts, register with the Country Brand, and receive advice on this operating model's structure, as well as tips and options available to broadcast their salsa classes.
Colombian government have been promoting Colombian Salsa as one of its cultural trademarks in different ways. The Embassy of Colombia in the United States, for example have been sponsoring free Colombian salsa lessons where participants not only learn about the basic steps, but also about the importance of this dance for its culture and its identity. With the name of Ensalsate, Salsa and Panela the Embassy has emphasized the value of this tradition. More over the recognition of the city of Cali as the capital of salsa have helped diversify diplomatic relations and attract citizens from all over the world interested in learning more about this cultural trademark
ProColombia president Flavia Santoro stated, "We celebrate this type of initiative by companies that, given the current situation, have been resilient and innovative in transitioning to a virtual platform, to continue positioning Colombia on a global level. We will continue to support this artistic expression, as part of the creative economy, in its aim to export services so that foreigners can virtually learn about this rhythm; once the current situation has passed, they can visit in person to learn about the history of salsa in Cali."
In fact, the group's sales executive explained that one of its objectives is to be able to resume receiving the same number of visitors as before the pandemic. "After our Super Bowl performance in early February, we had a very good two to three weeks of visitor flow from Mexico, the United States, France, Peru, and Ecuador. I even received a call from an English lady saying that she wanted to schedule her visit to Cali," stated González.
Furthermore, in the coming weeks, the company—along with special guests—will record one of its shows in order to share the history of salsa and various steps of the Cali dance style so that international viewers can buy a ticket to watch their prerecorded show online.