Colombia stands out as the ideal destination for post-COVID tourism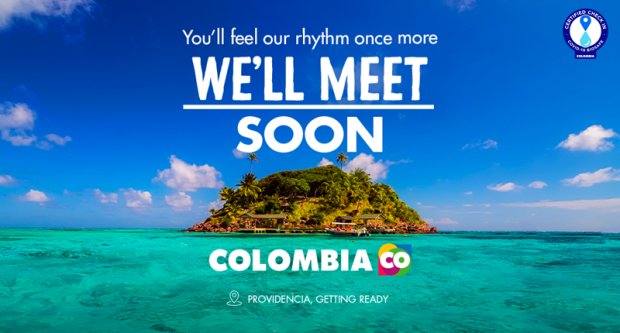 Biosafety measures against the virus, social distancing, sterilization of spaces and corporate social responsibility are some of the factors that will affect traveler's future preferences once the current situation has passed.
Results from a study carried out by The Travel Lab to identify travelers' future preferences once the current situation has passed, showed that 77.5% of the 500 survey respondents will take more factors into account than they previously have when deciding to take a trip, selecting a brand, or choosing a destination.
According to a Boston Consulting survey of more than 3,000 global consumers, certain criteria will be key. These include biosafety measures against the virus, social distancing, sterilization of spaces, and corporate social responsibility.
These results confirm that people will prioritize their health on their trips—distancing themselves from crowded spaces, avoiding crowds, and choosing more contact with nature. Therefore, it can be expected that activities related to rural, ecological, and wellness tourism will be quickly reactivated within the sector.
As such, once travel is resumed, Colombia will have an opportunity to offer its nature and adventure products, as well as sustainable destinations that have cemented their appeal around the world.
Some standout destinations are:
The Huila Department is strategically located in the center of Colombia and is known for attracting increasing numbers of tourists seeking getaways where they can be immersed in culture and nature. This department has attractive destinations such as the Tatacoa Desert, Los Guácharos National Park, and the Nevado del Huila National Park, which are complemented by the archeological richness of San Agustín.
The Guaviare Department, located in Colombia's Amazon region, is a natural jewel with undiscovered lands and enormous potential for community and adventure tourism. With stunning natural attractions such as the Balneario Tranquilandia spa, the Ciudad de Piedra geological area, and Serranía La Lindosa mountain range, this area could attract travelers who seek out sustainable alternatives.
The Chocó region's biodiversity has enabled this area to consolidate some of its wonders within Colombia's tourism offerings. Capurganá, Nuquí, Bahía Solano, and the Utría National Park have enchanted a growing number of visitors over recent years; this demand has brought new energy to the development of several sustainable tourism projects.
The Meta and Casanare Departments are the gateway to Colombia's Llanos Orientales (eastern plains) and offer an impressive and highly biodiverse landscape that can be complemented by a unique experience, due to the local community's rich culture.
These destinations are just a small sample of the attractions that Colombia boasts. In fact, Colombia has been nominated in 14 categories in the World Travel Awards, known as the "Tourism Oscars." All of these categories are related to the products that will top the list of post-COVID-19 travelers' preferences and that will be key in bolstering a sector that had been growing exponentially.