Routesonline Membership FAQs
1. Why are we introducing a membership fee?
The simple reason is to assist better communication. The Routes events provide a unique platform for airlines, airports and tourism authorities to discuss future air services. Following feedback from all three groups, they wanted to ensure that they could be better prepared for their meetings and continue conversations and contact throughout the year. To facilitate this we wanted to ensure that all profiles on routesonline are accurate and informative. The nominal fee is simply to incentivise organisations to keep their online profile up to date and utilise the resource available.
2. When will the membership fee be introduced?
All basic profiles were switched off from the end of March 2015. Since this point they will be hidden until the Directory Fee has been agreed by the customer. At this point the profile will be restored to the site without any loss of information. The Directory fee is applicable per Company and not per delegate.
3. What do I receive once I have confirmed the membership fee?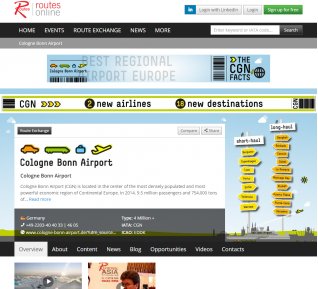 As part of a basic profile your company will receive:


A Logo and profile link featured on the event attended lists.
Automatic aggregation of news mentioning your organisation on your profile
Up to 5 Community Blog Posts a year
Access to the re-launched Request for Proposals from airlines.
Unlimited number of contact and users
Profile promoted on new electronic meeting system.
4. How long does the membership to the Directory last?
Payment of the Directory Fee covers your company's memberships for a 12 month period. Ongoing annual renewals will be required and this can be renewed for the following year at any point.
5. How do I confirm that I would like to go ahead and continue with the company profile?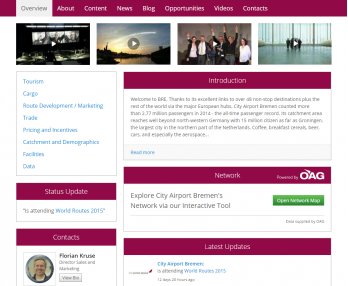 If you have not yet confirmed your delegate or exhibition stand at any of the 2016 Routes events, you can confirm this at the point of booking and it can be added to the same invoice. All currently registered organisations will be sent a booking form to complete shortly.
6. Who do I contact for further information or to reactivate?
To initially confirm the activation of your Routesonline membership or to discuss further, please contact your account manager, or alternatively call 0044 161 234 2700 or email sales@routesonline.com.
7. What is next once I have confirmed my Routesonline profile?
When reactivating your profile we would encourage you to take this opportunity to review the information on your company profile. Update and enhance it as much as possible with up to date information and data. The more accurate and current the information and data is the more it will support your meetings at Routes with potential airline partners.
8. How do I get help to update my profile?
Once reactivated, your Routesonline account manager will contact you and guide you through how to update your profile. We are also going to be holding digital masterclasses throughout the year to advise you on how to get the most from Routesonline and how to use it to engage with your target audience.
9. Can I upgrade my profile?
Yes, you can upgrade your profile to a full Routes 360 membership for an additional fee, which offers enhanced functionality. Full membership, gives you the opportunity to target and share key market information directly with airline network decision makers. You will also have access to:-
Campaign Manager - with the ability to send out HTML fully branded communications to our database (and the ability to segment).

Analytics – who's viewing your profile and a key lead generation tool

Access to OAG Mappers

Premium access to Airline Requirements (access to airline provided content, including RFP's for airlines' strategic network plans)

Enhanced visibility on Routesonline
10. How does a profile help me?
A Routestonline profile gives you a fantastic opportunity to connect with your target audience 365 days a year, in addition to the Routes events. A profile also gives your company the opportunity to target your key audience and to be fully prepared when attending routes events and meetings.
11. Who is the audience?
Routesonline is used by thousands of airline network planners and air service development professionals each week. With over 87,000 unique users and 130,000 sessions each month.