About the Platform
The event platform for TakeOff Cargo is now open. An intuitive system will support your organisation in building relationships with key stakeholders within air cargo service development.
Book your place Access the platform

Accessing the platform
You will receive an email asking you to log in to the platform. It will lead to the account that has been automatically created for you. A window will then suggest creating a password for your account.

Updating your profile
From the drop-down on the upper-right corner of your screen, click "My profile." Here you can edit your profile information including your personal information, biography, social media and contact details.

Requesting meetings
Select a delegate's profile from the attendee list. Choose the time of your meeting with one of the suggested meeting slots and write a note to the delegate to highlight the meeting purpose. Then simply click "Send meeting request".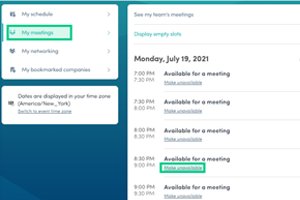 Managing your schedule
The tab "My Schedule" allows you to see your own schedule. Here you can find the sessions, sponsors and partners you bookmarked, confirmed meetings and more. You can export your schedule by clicking "Export to my calendar" or "Download PDF."
You can manage your availability for meetings by going to the My meetings tab in My Schedule.

Making new connections
To send a connection request, navigate to a delegate's profile and click the "Send connection request" button. Add a note to your connection request to introduce yourself and explain the reason for your request.

Watch conference content
All sessions will be made available to watch on-demand. You can access on-demand sessions through the schedule by clicking on sessions. View the full conference programme
Book your place Access the platform
---
Platform resources