Indirect Traffic: The Key to New Routes?
Indirect routes are often regarded as a pathway to successful new routes - but what are the facts behind the theory?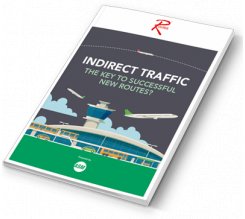 And what exact role do indirect routes play in the airlines' thinking?
To find out we sifted, sorted and analysed thousands of data points on global indirect flows throughout 2015 alongside new routes to create this special report, including:
Global indirect traffic flows
Indirect route opportunities
Top unserved and underserved markets
New route capacity, departures and destinations
We think that you'll find the results illuminating
Fill in the form to download your free copy today.