OAG Launches Industry's Most Comprehensive Air Passenger Data and Analysis Tool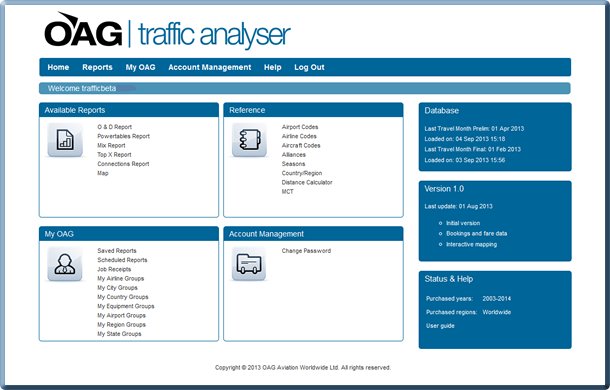 Las Vegas, USA, 6 October 2013
OAG, the market leader in aviation intelligence launches OAG Traffic Analyser, a powerful online analysis tool that provides access to scheduled airline passenger booking data.
OAG Traffic Analyser has been developed in partnership with Travelport, a leading distribution services and e-commerce provider for the global travel industry.
The product utilises passenger booking information from Travelport Illuminate™, allowing users to gain detailed insight into areas such as the number of passengers originating and arriving at a particular airport, load factors on each flight, the size of passenger origin and destination markets and booked seats on specific routes. All data can be presented in a report format or through an integrated mapping function, which allows users to create dynamic visualisations of traffic flows.
Read the full press release here