Global Airlines to acquire three more A380s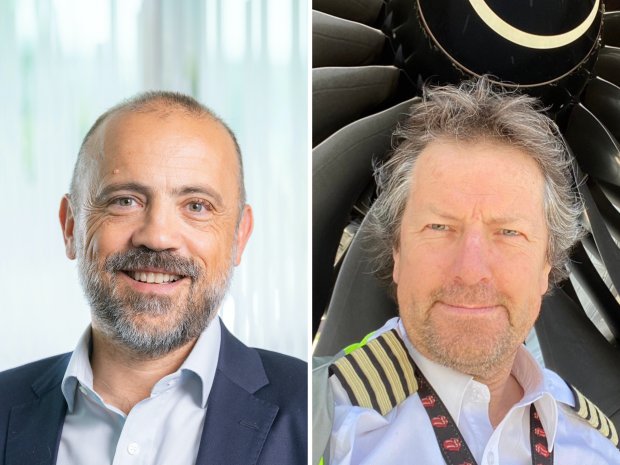 Global Airlines has announced that it has entered into an agreement to acquire a further three A380s.
With the purchase of these aircraft, the airline's fleet development reaches a new milestone with four A380s now lined up for the start of operations in Spring 2024.

The additional aircraft have been purchased for an undisclosed figure and the Global team is now developing plans for their refit and return to service. Further details about the aircraft, the acquisition and the refurbishment will be published in the coming months.
The airline has also appointed Pierre Madrange (above left) and Captain Ian Black (above right) to its advisory board, to advise the Global Executive Team on a variety of aviation, technical and commercial matters.

Pierre Madrange is a former French Air Force fighter pilot who later held the position of Chief Operating Officer at XL Airways, Managing Director at SR Technics and is a former Vice President of NAVBLUE, an Airbus company. Pierre brings his extensive aviation knowledge to the new airline as well significant expertise in airline operations and P&L management as well as growing leadership functions.

Ian Black is a highly experienced commercial and former military pilot. He has flown commercial operations across the Far East, Australasia, India, Dubai, and Europe. He worked for a major UK long haul airline for over 25 years as a senior captain on the Airbus/Boeing fleet. He has extensive experience in long-haul flying and cumulatively has flown 20,000 hours on A330/340-300/340-600 and Boeing 787 Dreamliner.

At Global, Pierre and Ian will advise the Executive Team and work closely with the Founder and CEO, James Asquith, on airline operations management and airline digitalisation.

James Asquith, Founder and CEO of Global Airlines, said: "We extend our warmest welcome to both Ian and Pierre to the Global Airlines' advisory board, where they will work closely with our team. It is a real testament to the progress we are making that we continue to appoint senior and experienced people to our Advisory Board. I believe we must have one of the most experienced teams of aviation professionals coming together to launch Global Airlines."

"We are also delighted to announce that we have agreed the purchase of a further three A380s to join the Global fleet. As I've always said, the A380 is the best aircraft in the sky, and we will continue to look for further acquisition opportunities."

Pierre Madrange said: "I'm really pleased to be joining the Global Airlines Advisory Board. James is putting together a great team and I want to use my unique aviation network as well as my experience in the industry to help the airline do something new and exciting. A product that passengers will not only want to fly, but also an airline that aviation professionals from around the world will want to work for."

Ian Black said: "Aviation is in my blood and joining the Advisory Board was an opportunity too good to turn down. For any airline, safety is the number one priority and Global will be no different. That commitment to safety is driven by not just the flight crew and cabin crews but every team member of Global Airlines, having a robust and open flight safety culture from the get-go is paramount. Working closely with both James and Richard is a real privilege, to influence the foundations of what will certainly be the very best airline this decade is a once in a lifetime opportunity."
Global Airlines plans to use its fleet of owned A380 aircraft to reinvigorate the flying experience, courtesy of the unrivaled spaciousness offered by the super jumbo.

Global Airlines is now focused on working closely with the relevant authorities and partners in preparation for inaugural flights in the Spring of 2024.