The Routes Aviation Podcast
The Routes Aviation Podcast offers insight on route development and aviation, featuring some of the most pivotal people from the global industry.
To view all of these podcasts and subscribe for future editions, please visit either our iTunes or Google podcast channels.
iTunes channelGoogle Podcasts channel
Featured Episodes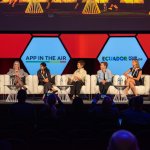 Our expert panel discusses aviation's gender imbalance and what needs to happen to get more women into leadership roles in the industry.
Listen Now
Recent Episodes