The Routes Aviation Podcast
The Routes Aviation Podcast offers insight on route development and aviation, featuring some of the most pivotal people from the global industry.
To view all of these podcasts and subscribe for future editions, please visit either our iTunes or Google podcast channels.
iTunes channelGoogle Podcasts channel
Featured Episodes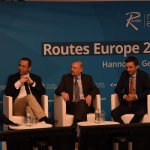 How will the introduction of new long-range aircraft influence the network development of carriers in the region? What new city pairs can we expect in the coming years? What are the potential opportunities for secondary airports?
Listen Now
Recent Episodes