Global Airlines and American Express set for take-off with new partnership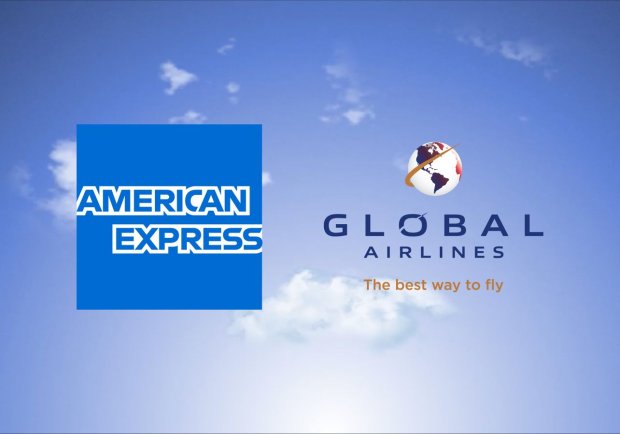 Global Airlines and American Express sign agreement to partner on payments processing and exclusive Cardmember offers. Amex Cardmembers will be among the very first to book seats on Global Airlines and benefit from exclusive offers and promotions. Announcement made at "Welcome Aboard" party at Kettner's, Soho House Over 200 media, industry figures, and airline partners in attendance.
Global Airlines, the world's newest long-haul airline, has announced a significant partnership with American Express, meaning high-spending Amex Cardmembers will be able to book tickets and benefit from exclusive offers with the airline.
Ahead of the first flight in 2024, American Express and Global will collaborate on bespoke offers for Amex Cardmembers on the inaugural services between London Gatwick and New York's JFK. The agreement will also see a range of exclusive fly-drive offers, hotel stays, and restaurant bookings made available to Cardmembers.
Global will commence operations with two transatlantic routes. Through the new partnership, American Express Cardmembers will be among the first to be able to purchase tickets across all three cabins onboard the Global Airlines A380 aircraft; First, Business and Economy. The airline is also determined to improve the way people travel when working and is seeking to attract business travellers to its newly designed and refurbished cabins.
Commenting on the partnership, the CEO and Founder of Global Airlines, James Asquith said: "I'm delighted to announce our latest major partnership with one of the world's leading brands. Teaming up with American Express to provide its Cardmembers with exclusive offers and promotions and the chance to join us on some of our very first flights, alongside delivering a best-in-class payments experience, is a really important step for the airline.
"Both Global Airlines and Amex are united by a desire to offer the best possible customer service and experience, and I can't wait to encourage as many of its Cardmembers as possible to go Global when flying transatlantic."
Dan Edelman, Vice President and General Manager, UK Merchant Services at American Express, said: "We're committed to ensuring that Amex is accepted wherever our Cardmembers want to spend, so are delighted to bring them the opportunity to be among the first passengers on Global Airlines. With our long history in travel, this new partnership is hugely exciting for us."
Passengers booking to fly with Global will also be able to pay with American Express' award-winning Pay with Bank Transfer solution, a simple, speedy and secure way for consumers to pay directly from their bank account.
The announcement was made at the airlines "Welcome Onboard" event, held at Kettner's, Soho House on Thursday night.
Over 200 guests were in attendance, including representatives from national media, investors and aviation & brand partners.
Laurent Perrier was served throughout, and, to bring to life the airline's onboard service, all guests were given a luxury amenity kit featuring products from Margaret Dabbs, Waken, Murdock, Mermaid Vodka, and Longbottom.
About Global Airlines
Global Airlines was launched in 2023 with an aspiration to offer passengers the best way to fly. The airline is a wholly owned subsidiary of Holiday Swap and headquartered in London, United Kingdom. The airline is led by CEO James Asquith and backed by aviation experts and investors around the world. The airline has commenced an aircraft acquisition programme with one A380 secured and more to follow in the summer of 2023. The inaugural transatlantic flights are expected in 2024.
About American Express
American Express is a globally integrated payments company, providing customers with access to products, insights and experiences that enrich lives and build business success.