Gazipaşa-Alanya welcomes Tehran passengers of Freebird Airlines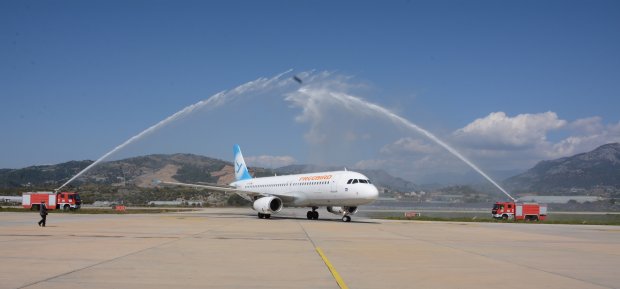 Gazipaşa-Alanya Airport has welcomed the flight of Freebird, a Turkish airline company, arriving from Tehran, the capital city of Iran. Launching its first flight to Gazipaşa-Alanya, Freebird Airlines will connect two cities during the Nowruz Holiday.
Operated by TAV Airports, Gazipaşa-Alanya Airport hosted the first Tehran flight launched by Freebird, an Istanbul-based Turkish airline company. Landing to Gazipaşa-Alanya Airport at 12:20 pm with an Airbus A320 type aircraft with 174 passengers, the flight was welcomed by water arches on the apron. After that, the passengers were greeted by TAV Gazipaşa and Freebird executives at a cocktail reception.
TAV Gazipaşa Operations Deputy Coordinator Murat Şen stated: "TAV endeavors to increase direct flights to Gazipaşa-Alanya Airport and continues promotion and marketing activities in order to contribute to the development of the tourism potential in the region. We are glad to host flights from Tehran at Gazipaşa-Alanya as part of our collaboration with Freebird Airlines, which is the 19th airline company launching flights to our airport. We will continue working to expand the flight network of Gazipaşa-Alanya Airport and develop tourism."
Gazipaşa-Alanya Airport hosts 19 airline companies launching domestic and international flights to a total of 25 destinations. The airport hosted 6,510 flights in 2015 while providing services to approximately 915,000 passengers.
About TAV Airports
TAV Airports, one of the world's leading airport operators, operates Istanbul Atatürk, Ankara Esenboğa, Izmir Adnan Menderes, Milas Bodrum and Gazipaşa Alanya airports in Turkey. Tbilisi and Batumi airports in Georgia, Monastir and Enfidha-Hammamet airports in Tunisia, Skopje and Ohrid airports in Macedonia, Madinah Airport in Saudi Arabia and Zagreb Airport in Croatia are also operated by TAV Airports. TAV Airports is also active in other areas of airport operations including duty free, food and beverage, ground handling, IT, security and operation services. Within the same context, TAV Airports also operates duty free, food and beverage and other commercial areas at Riga Airport in Latvia. Together with its subsidiaries, the company provided services to 780,000 flights and 102 million passengers in 2015.