Portuguese Airports receive "Clean & Safe" Certification and welcome Transavia Flights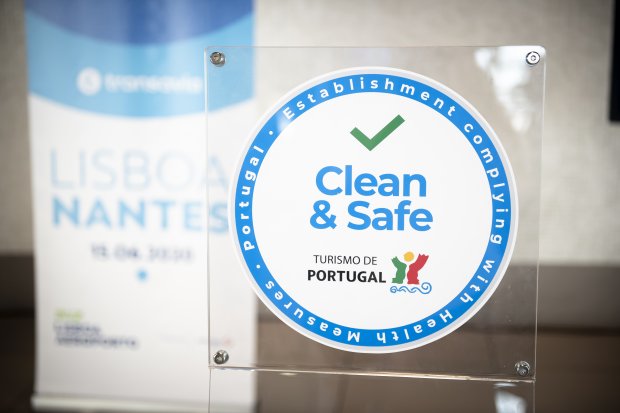 As Transavia France resumed its operation to Portugal, Lisbon Airport celebrated the arrival of flight TO4638, that landed shortly before 18:30 pm, on June 15th, coming from Nantes.
Representing the importance of reopening these two markets (French and Portuguese) and the bridge between two VINCI Airports – Nantes and Lisbon, Lisbon Airport welcomed two special passengers: Nathalie Stubler, Transavia's CEO, and Nicolas Notebaert, CEO of Vinci Airports. They were received by Florence Mangin, France's Ambassador to Portugal, Luis Araujo, Portuguese Tourism Board President and Rita Marques, Secretary of State for Tourism.
"Passengers visiting Portugal enjoy excellent health security and experience throughout their journey, from origin to destination, thanks to the mobilization of Turismo de Portugal and good coordination between airports and airlines. We are proud to receive the 'Clean & Safe' seal from Turismo de Portugal today. It is a strong recognition of the work done. Congratulations to our teams and our passengers: Welcome back", stressed Nicolas Notebaert at this ceremony.
"For us, Transavia France, Portugal is one of our first markets. The airline's connection to Portugal is a heart story and is part of Transavia's own history.", said Nathalie Stubler, CEO of the low-cost airline of the Air France / KLM Group.
"Portugal is a key market for the Transavia Group companies. We are launching new routes to Portugal, from Montpellier, to the three main Portuguese airports, Lisbon, Porto and Faro. Despite the crisis, we continue to invest in this market and to grow our network", added the official.
The president of Turismo de Portugal, Luís Araújo, pointed out the responsibility and the trust between the different actors to have today completed the reopening of Transavia's operation for Portugal, noting that the attribution of the 'Clean & Safe' seal certifies the importance of this infrastructure within the full tourist experience.
In turn, Rita Marques, Secretary of State for Tourism, acknowledged that "it is true that tourism has stopped, but we have never stopped working for our tourism".
"I pay a tribute here to all the professionals who allowed this to happen," said Rita Marques, addressing this tribute to the employees of Turismo de Portugal, ANA and Transavia.
Florence Mangin, France's ambassador to Portugal, emphasized that the resumption of Transavia flights to Portugal translated a "combination of freedom and security".
"This reopening of internal borders was long awaited, both by tourism professionals and citizens, as holidays approached," concluded Florence Mangin.