Ryanair launches new Budapest route to Lappeenranta, Finland for winter 2019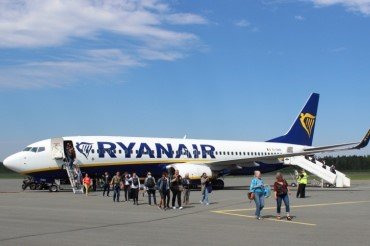 Milan Bergamo and Berlin routes to southeastern Finland become year round routes
Europe's biggest low cost carrier Ryanair increases flight offerings to Lappeenranta. During winter season 2019/20 Ryanair offers flights from Milan Bergamo, from Berlin Schönefeld and from Budapest twice a week to this southeastern Finnish Lakeland destination. Flights to Milan Bergamo and Berlin continue after summer 2019 season and flights to new destination Budapest commence in the end of October.
Ryanair's total seat offering to Lappeenranta, Finland during 2019 will therefore grow nearly 300% compared to year 2018.

Milan Bergamo route operated already during summer season 2018 and was very successful. Berlin route will start in April 2019 and continue as year round route. Budapest route is new to Lappeenranta and is planned to operate as year round route.

"These new routes and starting year round operation will take our excellent co-operation with Ryanair to yet another level. This creates a great opportunity to introduce beautiful Finnish Lakeland to new guests during winter season. Europe's 4th biggest lake area, Lake Saimaa, is very snow- and ice-proof area during winter months. We warmly invite guests to experience fun new winter adventures like skiing and skating on a frozen lake, ice-fishing and ice-swimming. After adrenalin rush you can relax in warm Finnish sauna and chill out in various spas at the shores of Lake Saimaa.

Ryanair's unbeatable low fares offer tempting opportunity to try somewhere new and explore beautiful Finnish Lakeland. Nearest lake is only 2 kms from Lappeenranta Airport, so starting your holiday without crowds could not be any easier", says Eija Joro, CEO of Lappeenranta Airport.

"Lappeenranta Airport's unique position close to St. Petersburg and in the heart of best Finnish Lakeland serves large amount of customers. Passengers have found Lappeenranta Airport as an easy gateway to Finland and to exciting metropolis of St. Petersburg. Both Helsinki and St. Petersburg are only 2 hours away from Lappeenranta Airport," Eija Joro continues.

Chiara Ravara, Head of Sales and Marketing for Ryanair says:

"Ryanair is pleased to announce a new Lappeenranta route from Budapest, commencing in October 2019, which will operate twice weekly, as part of our winter 2019 schedule. Customers can now book flights between Budapest and Lappeenranta as far out as March 2020, with our full schedule launching soon.

Customers should log onto www.ryanair.com and avoid missing out."


More information:
Lappeenranta Airport Ltd
Eija Joro, CEO
+358 40 5022411
eija.joro@lppairport.fi

Eelis Eskelinen, Chairman of the Board
+358 400 372 153
Photo: Lappeenranta Airport summer 2018. Photo by Minna Kivistö.