Eurowings will continue to operate flights to Dusseldorf from Krasnodar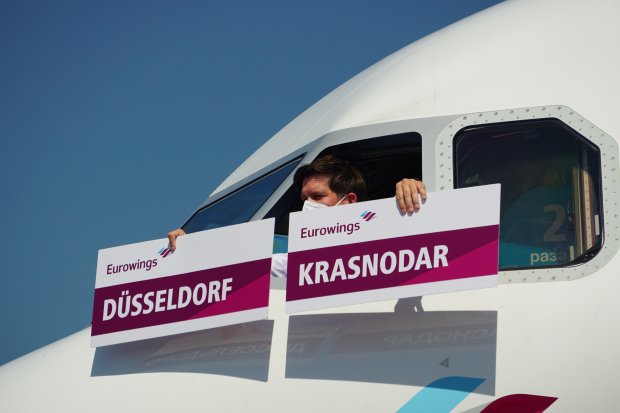 In anticipation of the autumn-winter period, the German low-cost airline Eurowings (a subsidiary of Lufthansa) has announced prolongation of flights from Krasnodar to Dusseldorf until the end of spring navigation. The flights will be operated by Airbus A320 aircraft twice a week. On Mondays, the plane will leave at 19:40, on Fridays at 14:40. Prices start from 119 euros.
Dusseldorf is an important economic and cultural center of Germany. Its convenient geographical location makes it a convenient interchange hub on the way to other countries of the world and Europe. Thanks to advantageous direct flights of one of the largest low-cost air carriers, the residents of Kuban, who are allowed to enter Germany, will be able to joyfully celebrate Christmas and New Year almost anywhere in in Europe. Convenient time and days of the departure make Dusseldorf a perfect place for weekend tours, as well as business trips. The city is rich in historical sights, cultural sites, delicacies and often becomes a venue for major international conferences.
We recall that the first aircraft landed at Krasnodar airport on July 5, thus marking the restoration of regular flights with the countries of Western Europe. The aircraft was welcomed with a traditional water arch. The arrived 123 passengers were awaited with red carpet and a choir of the Cossack song, greeting the guests with traditional bread and salt and welcoming songs. The guests were also greeted by the representatives of the Lufthansa group, the Honorary Consul of Germany in Krasnodar Dr. Ralph Bendish, as well as guests from the city administration headed by ex-mayor Evgeny Pervyshov and employees of Krasnodar airport.
In addition to Dusseldorf, Krasnodar International Airport operates flights to Belgrade (Serbia) Athens, Thessaloniki (Greece), Larnaca, Paphos (Cyprus), Osh, Bishkek (Kyrgyzstan), Tashkent, Fergana (Uzbekistan), Yerevan, Gyumri (Armenia), Baku ( Azerbaijan), Hurghada, Cairo (Egypt), Antalya, Istanbul (Turkey).