Aarhus named Airport of the Year by European regional airlines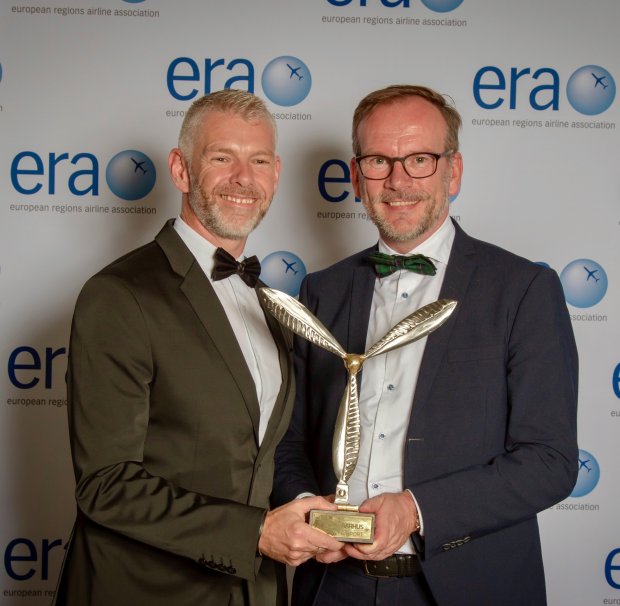 ERA recognises airport achievements in Scandinavia for first time with its 2019 award to Aarhus
For the first time European regional airline association ERA has recognised an airport in Scandinavia with its prestigious annual Airport of the Year award. Revealed and presented at the Association's annual General Assembly gala dinner near Nice in France, Denmark's Aarhus Airport was awarded the Airport of the Year 2019 title in recognition of its rapid recent development, increase in passenger number and destinations, becoming Scandinavia's fastest growing airport in 2018.
Celebrating the announcement, CEO of Aarhus Airport – Peer Kristensen, welcomed the news saying, "we are completely thrilled with this award from ERA, it is highly appreciated recognition of the wide-reaching work we have done and continue to strive at, in delivering the very best service to the city of Aarhus and surronding region, our passengers, airline customers and stakeholders. Our 2018 growth made us Scandinavia's fastest growing airport and that's a huge achievement in itself, accredited to all our staff in every department."
ERA is one of Europe's most highly regarded airline associations and represents the interests of regional airlines from all corners of the European airline industry, including several Nordic member airlines such as SAS Scandinavian Airlines which recently unveiled at least 15% capacity increase at Aarhus for the coming year, doubling planned frequency to Stockholm and expanding other routes as well as opening two new destinations; Chania in Crete and Alicante in Spain.
ERA's Director General – Montserrat Barriga praised Aarhus as their 2019 airport winner, commenting, "on behalf of ERA, I would like to congratulate Aarhus Airport for clearly demonstrating a significant commercial and operational turnaround this year, modernising its facilities, expanding its destinations and passenger numbers as well as the major task of changing the airport structure to a more dynamic commercial business model. This accolade demonstrates the airport's continued high quality standards to existing and potential customers."
In September, Aarhus Airport opened a new multi-level departure lounge, specifically enlarged to handle its fast-increasing customer flow following a 2018 rise in international passengers of +80% amid total passenger growth of +31%. In the first half of 2019 the volume of passengers expanded by a further +20% year-on-year and in addititon to the above expanded SAS schedule news for 2020, the airport has also confirmed a new year-round charter operation by SAS Airbus aircraft, plus Rhodes as a new summer destination in Greece and new airline customer Great Dane Airlines operating from May for a major Danish tour operator.
"Winning the ERA Airport of the Year award is an exciting achievement for us", said Aarhus Airport's Head of Airline Relations – David Surley, "we have not been a menber of the association for all that long long and their recognition of our work and significant development so soon, is extremely humbling and hugely appreciated. The airport also became a member of ACI (Airports Council International) recently and through such forums and being more closely aligned to best practice alongside peer airports all over Europe is very important, from both a learning and benchmarking perspective. As we grow, we need to be sure we are fully in tune with industry-wide activity and knowledge, participate and sharing. Receiving the accolade of Airport of the Year by ERA in 2019, an asociation made up of regional airlines, is a reflection of the very hard work by all in the AAR team and by our operating customer airlines alike."
Greater Aarhus metropolitan area is home to over 1.38 million people, Denmark's largest commercial port, Scandinavia's largest university student population, hospital and multiple global headquarters of sector-leading companies including Vestas Wind Systems, Arla Foods, Grundfos and Aarhus University. The fifth largest metropolitan area in the Nordic region, Aarhus is also its fastest growing tourism economy by total overnight stays and ranks 72nd in the world among international conference locations (ICCA 2018)