Bulgaria's Black Sea new for summer sun from Aarhus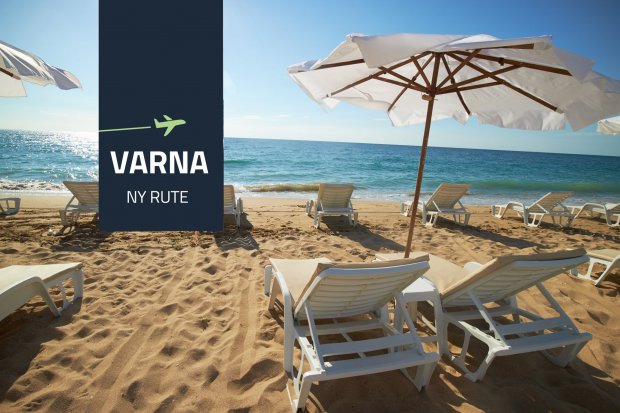 Varna is latest addition to AAR vacation route map
Aarhus Airport welcomes another new leisure route, this time with direct flights to Varna in Bulgaria. Black Sea flights start in June 2020 - ready for next year's summer holiday season.
The departure board at Aarhus Airport is brimming with fresh summer sun news; earlier this year the airport announced that from summer 2020 newcomer Great Dane Airlines will operate charter flights to new destination Rhodes and to Preveza in Greece. Tour operator customer ÅrhusCharter has also secured a new capacity contract with Aarhus-established SAS for A320/A321 leisure flights to southern European destinations including Cyprus and Zakynthos, in addition to SAS own scheduled network now including Chania in Crete and Alicante, as well as significant capacity increase to Palma de Mallorca and Malaga. Last week, Danish airline DAT also announced it too will add Aarhus scheduled services and open a new route to the Baltic island of Bornholm.
"We have a busy year ahead in 2020 as SAS is expanding its base here in Aarhus by way of significant capacity increase to Stockholm - almost doubling-up the seat count", commented David Surley, head of airline relations at Aarhus, "as well as a strong forward look on leisure markets with a number of new routes and more seat capacity to existing sunshine destinations. In addition to Split, Nice, Palma and Malaga by SAS, we now welcome Alicante and Crete, plus more charter capacity to Greece, new flights to Rhodes and Bornholm and now Balkan Holidays new service to the Bulgarian sun. It all echoes the fast growth trend in our growing holiday market".
In recent years, the route development at Aarhus Airport has gone from a strict focus on business travelers to also embracing the vacation market. Passenger growth at Aarhus Airport has been significant, Aarhus became Scandinavia's fastest growing gateway in 2018 with an 80% increase in international passengers accompanied the onset of extensive redevelopment such as the recently opened new 750 square meter departure lounge in striking Nordic design. European regional airline association ERA named Aarhus its 2019 'Airport of the Year' at a recent awards ceremony in France.
Flights to Varna in Bulgaria by Balkan Holidays Airlines will operate on Tuesdays