Aarhus accelerates airport-wide upgrades as passenger traffic resumes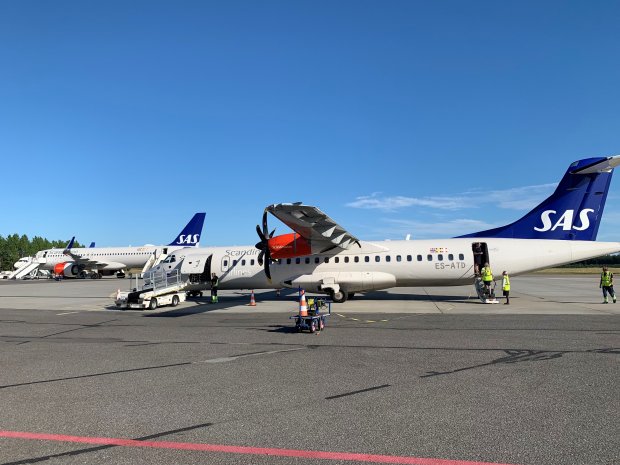 Back in the air – flights re-commence amid gradual relaxation of restrictions
Aarhus Airport welcomed news of service resumption by SAS Scandinavian Airlines with flights taking-off again from AAR as early as Tuesday 2nd June as the airline re-opens service between Aarhus, which is Scandinavia's fifth largest city and the Danish capital. SAS has also announced that some onward connections to New York, Chicago, Helsinki and Amsterdam will resume as part of limited network re-opening.
As societal restrictions within Denmark imposed during the country's early response to the COVID-19 pandemic have been relaxed, so the economy has received significant encouragement with businesses re-enabled to conduct activity as sensibly and widely as possible. As a response to anticipated increase in demand for air service, "we feel that there is a growing need for domestic travel again and it is perfectly natural to prioritize the route between Aarhus and Copenhagen", says Simon Pauck Hansen, Group Executive Vice President of SAS. "We are not at the original level of service, but as we observe the core of our domestic traffic again, so we can increase capacity along the way."
International travel restrictions remain in place in Denmark, as with most European countries, where updates and guideline changes on overseas travel are anticipated from the Authorities in the near future. Aarhus Airport has responded to recommendations by the relevant Danish public and health authorities in regard to social distancing measures and revised health and safety protocols in order to keep its customers well protected and provide the most optimal travel experience. A new route takes-off in early July when Danish carrier DAT opens 3 x weekly scheduled service to the island of Bornholm, while the airport also hopes to welcome direct international service resumption as Ryanair service linking Aarhus and London is set to be reinstated from July as well.
"We have used the temporary coronavirus closure to passengers to accelerate the pace of airport-wide modernisation", commented airport head of airline relations – David Surley, "the slow-up has enabled us to plough through several months of extensive construction work in significantly less time. We are one of a number of airports around the world taking this opportunity to efficiently pick up the pace on building and improvement work. We're not done yet, so we hope customers will forgive just a little unslightly mess, while improvements stack up, so it's business as-usual-as-possible and we'll do what we can to ensure a good experience. The changes are quite far reaching and we're confident customers will love the results".
Over DKK100 million has been allocated for renovation and redevelopment of Aarhus Airport, including an all-new new security screening area, new childrens play area and recreational amenities, a new café and shopping area, expanded departure lounge, three brand new gates, a new border control setup, plus a lot of other changes to the airport's interior and exterior, from car parking to access layouts and also a new roof-top hotel.
Greater Aarhus metropolitan area is home to over 1.38 million people, Denmark's largest commercial port, Scandinavia's largest university student population, hospital and multiple global headquarters of sector-leading companies including Vestas Wind Systems, Arla Foods, Grundfos and Aarhus University. The fifth largest metropolitan area in the Nordic region, Aarhus is also its fastest growing tourism economy by total overnight stays and ranks 72nd in the world among international conference locations (ICCA 2018)