Swedish BRA goes international with new operations at Aarhus in 2021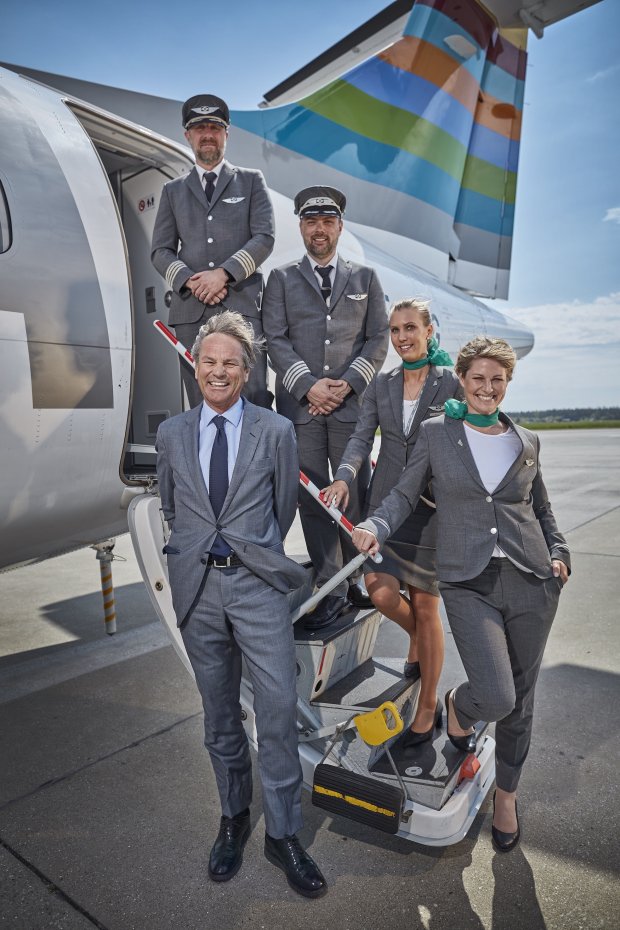 Braathens Regional Airlines reveals initial Nordic network from Aarhus, in Denmark
Leading domestic Swedish airline, BRA – Braathens Regional Airlines, is going international and launching new overseas flights with three brand new destinations from Aarhus in Denmark. On 23 September the airline takes-off to Gothenburg and Stockholm, and on 22 December BRA will also set course for Sälen / Trysil (Scandinavian Mountains).
At a press conference held 4th June within the partly-complete new terminal construction of the fast-expanding Aarhus Airport, the mainland Danish gateway welcomed the development of its growing Scandinavian network and a new close cooperation with Swedish airline, BRA - the airline thus entering the Danish market for the very first time, having chosen Aarhus as its new international starting point. The collaboration has been underway for some time and is a direct result of the airport's intensive route development work. Initially, three destinations will be launched; all completely in line with Aarhus Airport's intention to enhance both business and leisure travel connectivity to Greater Aarhus and the wider region. Gothenburg and Stockholm are both highly relevant destinations for several of the largest companies located in the business region of Aarhus, while Sweden's two biggest cities and its superb, snowy mountain landscapes and ski areas are a popular draw among travel-loving Danes. Aarhus is of course also an attractive destination for Swedish travelers both on business and enjoying city-breaks to Scandinavia's fifth largest metropolitan area.
"It's an incredibly exciting collaboration we have now entered into with Swedish airline, BRA. Not only are these some extremely popular destinations that stimulate the travel potential both ways, and thereby benefit both Denmark and Sweden, we are also very pleased that BRA has chosen to kickstart their entry into the international arena here at Aarhus. BRA has a sharp focus on developing greener aviation, and they have a consumer-oriented startup mentality that pushes the sustainable future of the aviation industry, and we are proud to be part of that journey", says Nicolai Krøyer, CEO at Aarhus Airport.
BRA is Sweden's second largest domestic carrier and holds 30 percent of the market. The company, which was established in 2016, considers itself an innovator that has the tail-rudder firmly fixed in a soaring ambition to make aviation more sustainable. Thus, BRA is the only commercial airline in the world that compensates for all its CO2 emissions and at no extra cost to its passengers. The company flies with brand new state-of-the-art ATR 72-600 turbopop aircraft, which are the world's most climate-friendly regional aircraft. Since 2018, BRA has offered its customers the chance to choose fossil-free biofuel when booking and already in 2019 the company was environmentally-certified – the world's first passenger airline to do so.
It is Norwegian entrepreneur Per G. Braathen, who is the man behind BRA and the parent company Braganza, which includes numerous well-known travel companies and he is also Chairman of the Nordic region's largest hotel company, Scandic. he is looking forward to soon delivering the airline's services to customers in Denmark.
"We see this as a great time to launch BRA on the Danish market on the tail of the global pandemic", says Per G. Braathen, who owns BRA. "Aarhus is an extremely good match for the airline with attractive guest potential in the Greater Aarhus area and it excites us to bind Nordic points closer together. Flying between major points in Denmark and Sweden presents great business impetus and strengthens the tourism eocnomy in both countries. Also we are bringing Aarhusians a direct route to the Nordic region's largest ski destinatiion, serving Scandinavian Mountains Airport. It is also special for me, as my family lived in the Aarhus region for over 25 years, which makes adding Denmark to our network all the more satisfying."
BRA's route to Gothenburg starts on 27 September with a return flight daily (ex Saturdays) all year round, continuing smartly to and from Stockholm's downtown Bromma Airport five times weekly from the same start date. Skiers can get ready for take-off from 22 December, when BRA opens its new twice-weekly winter route to Scandinavian Mountains Airport, located close to the slopes of both SkiStars' popular winter sport destinations, Sälen (in Sweden) and Trysil (in Norway). All flights will be operated by the airline's 72-seat ultra-modern and enviro-friendly ATR72-600 turboprop aircraft.