Aarhus Airport new terminal: departure lounge phase now open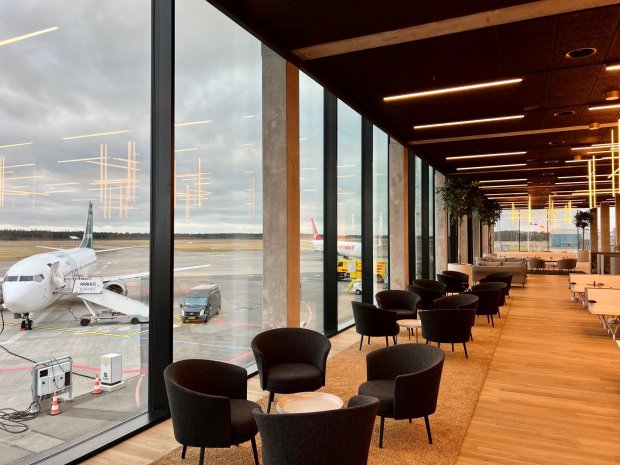 Danish design reaches new heights as Sky Lounge reaches completion
Aarhus Airport reached a major milestone in February, as the airport's multi-year DKK 140+ million redevelopment project nears completion in the middle of this year. As the airport serving Scandinavia's fifth largest population base doubles in size from approx. 5,000 to 10,000 m2 terminal floor space, the design line of markedly Nordic tones and decor throughout with sharp lines, softened by a warm and welcoming glow made its functional debut for passengers as the new departure and transfer Sky Lounge transitioned into daily use.
Under construction throughout the pandemic period, the Aarhus gateway's brand new airport exterior represents not only an enormous upgrade in the facility's international passenger capacity, but is constructed of fully sustainable materials. No hiding the changes, the entire façade is metallic gold in colour and with expansive glass sections showering natural light into the airport's calming interior space. Considered the first of its kind by way of hospitality and customer proposition, the terminal is completely furnished in contemporary Danish design by world renowned HAY design house. Aarhus Airport cements its clear long-term vision and is gearing-up to be the Greater Aarhus and East Jutland region's international gateway for the future.
"The scale of change in customer experience just cannot be put in to words", stated route development director – David Surley, "this airport serves one of the Nordic region's fastest growing and changing metropolitan areas and we are energetically keeping pace with that fantastic evolution by delivering an airport that sets the standard for customer experience and wellbeing. Modernisation is an essential move to make the airport attractive to investing airline partners and increasing aircraft movements, as well as to service a much larger number of Aarhus passengers. Our airport will be top-tuned, and the entire guest experience is being lifted-up to that higher league. Of course it is a special situation to handle and navigate, achieving turnaround during a pandemic, but we are already seeing many positive signs on our route network and have full confidence that the airport will deliver on all parameters. Now we have a departure lounge that is among the world's finest".
The brand new Sky Lounge is a departure and transfer space for all departing customers and flights, bridging the gap between open space, lots of natural light and much-needed relaxation while offering first class amentities that leisure and business travelers alike seek to enjoy – not just an offering to business class frequent flyers, but for all traveler types and fare paying guests. Soft sofa seating, quiet corners, ambient lighting, a living room vibe that allows all guests to feel at home while they read a book, check their emails, charge-up their devices while streaming a favourite show, grab a glass of wine or warming latte, maybe enjoy a quality snack or hot entrée from the airport's MIB Aarhus Airport eatery while savouring an uninterrupted panormaic vista of the runway.
As part of the modernisation, the airport is also expanding with 3 additional international boarding gates, a completely revised aircraft operating platform of all nose-in stand operations, more than 500 m2 of the lower departure lounge allocated to brand new tax-free shopping. A new digitally guest-controlled airport hotel with 37 double rooms is fully integrated within the terminal's first floor level; will offer fully sound-proofed rooms bathed with natural light. Among other things, the hotel will meet the need for accommodation of international business travelers using early and later timed flights. The airport is well ahead on its upgrades, which also include a six-lane ultra-efficient security screening area, expanded car parking areas, new border police and customs facilities, sound-proofed play area across two floors, a teenage lounge with soccer field, flight simulator and more. The design of the airport has been prepared by, among others, C. F. Møller Architects, AART Architects, Schmidt Hammer Lassen and AMPM Design Studio.
In recent months 'AAR' has added new service by BRA (Braathens Regional Airlines) linking Aarhus with Gothenburg, Stockholm Bromma and Scandinavian Mountains, also extensive Ryanair growth by addition of Milan Malpensa, Warsaw, Riga, Malaga, Corfu and Zadar, while new tour operator flights to Hurghada, Sharm el Sheikh and Gran Canaria have taken-off and the airport has also welcomed a base for new Danish charter carrier Airseven, serving numerous Mediterranean destinations for tour operators including ÅrhusCharter, Primo Tours and Spies.