Wizz Air to open service at Aarhus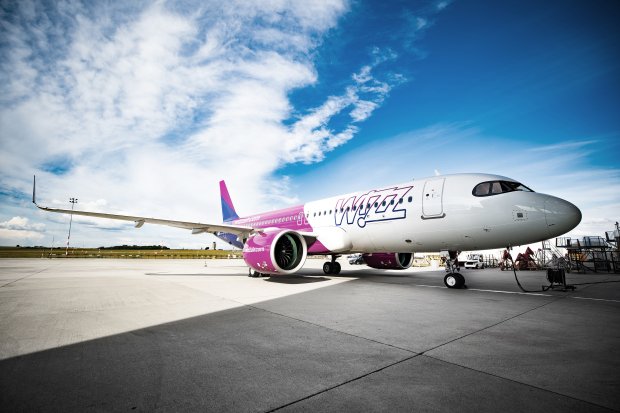 First route announced is to Bucharest in Romania
One of the world's leading low-cost airlines soon lowers the landing gear for touchdown at Aarhus in Denmark, as Wizz Air announces brand new direct route to the Romanian capital, Bucharest. Flights take off later this summer, in September.
Aarhus Airport presents yet another new airline customer and another new, until now un-serviced route to the eastern part of Europe. Hungarian-based airline, Wizz Air has revealed it will add Aarhus to its extensive route map as a direct result of the airport's intensive work to expand the number of major European capitals and destinations offered, with Bucharest having long been on the wish-list as one of eastern Europe's largest and most important economic hubs, widely referred to as "the Paris of the east". The new route is very relevant to many of mainland Denmark's international companies and also the considerable population of Romanians who have moved to the Aarhus region.
"Wizz Air is a young company that has presented impressive growth since its establishment in 2004. From the first flight in 2004 to celebrating a remarkable milestone of 200 million passengers carried by end of 2019. We are very pleased that Wizz Air is now landing at Aarhus Airport with a direct route to the Romanian capital, attracted to the very large number of currently leaking travelers in the Aarhus area, and we look forward to see growth in Wizz Air presence here through joint efforts. Bucharest is top of our East Europe wish-list, not only is it an underestimated gem among major city break destinations, and with close economic relations between the Danish business community and Romania, but also the connection is a great asset for around 16,000 Romanian citizens resident in central and northern mainland Denmark. I have been to Bucharest, their architectural gems from the early 1900s French Beaux Art style are quite beautiful," says Oliver V. Wormslev Petersen – director route development at Aarhus Airport.
Wizz Air looks forward to sending the first Aarhusian departures to Bucharest:
"We are delighted to announce new service from Aarhus to Bucharest which will be operated two times per week from 29th September. Today's announcement underlines our strong commitment to offer more affordable travel opportunities across Denmark. We look forward to welcoming passengers on board of our young and modern aircraft in Aarhus very soon," says Paulina Gosk, Corporate Communication Manager at Wizz Air.
The Hungarian airline is based in Budapest, serves 151 airports in 44 countries. Wizz Air's ever-growing fleet counts 120 Airbus aircraft. Aarhus Airport is the third airport in Denmark to which Wizz Air checks-in. The direct route will take off on 29 September 2022 with two weekly departures on Thursdays and Sundays. The flight time between Aarhus Airport (AAR) and Bucharest's Henri Coandă International Airport (OTP) is just 2 hours and 45 minutes.