Stockholm is second daily European capital service announced this month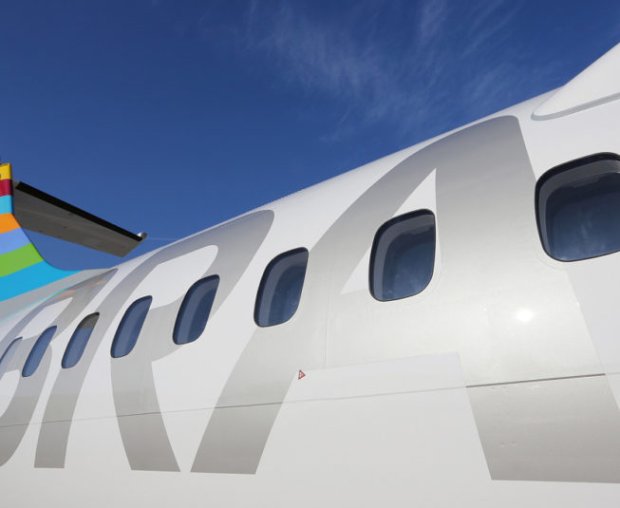 BRA opens new service to Aarhus from Bromma Airport hub
Sharing the limelight with KLM, in a separate announcement, Sweden's second largest airline – BRA (Braathens Regional Airlines) – unveiled new service to Aarhus from it's Stockholm Bromma Aiport hub, beginning on 7th November. The fast-growing Swedish airline first opened service to Aarhus in 2021 and will now begin linking the Greater Aarhus area with Stockholm's downtown airport by direct daily flight, Monday to Friday. Flights are particularly well timed for business travellers from the Swedish capital, departing Stockholm at 08:45 each morning and be operated by the carrier's extremely fuel efficient 70-seat ATR72-600 turboprop aircraft with a flight time of just one and a half hours.
"We are incredibly happy that we can now enable direct flights between the Swedish capital and Denmark's next largest city, Aarhus. Thanks to increased demand from Sweden and from Danish customers, it was decided to launch a new direct line between Aarhus and Stockholm – from our Bromma Airport hub naturally. The new service is completely in line with BRA's long-term strategy of expansion even outside of Sweden's borders", says BRA's chief commercial officer, Martin Erkenborn.
This was echoed from the Danish side. "We know BRA, we love working with BRA and the airline's customers love to fly with them – it is fast, super friendly, they are hugely professional and an impressively customer engaged operation, so comfortable, convenient and very affordable", said Aarhus Airport's David Surley. "Stockholm has been the largest indirect traffic market since the pandemic period, we have been watching demand and can see traffic numbers between the cities have been fast-developing. It makes extraordinary sense for BRA to seize this opportunity given the extreme convenience of their Bromma Airport hub to the very heart of Stockholm city, it is so central, so very ideal for both business and leisure customers alike. It's a great airport and a top-level airline".
BRA is by far the largest airline operator at Bromma Airport in Stockholm and the airline's new Aarhus service will connect smoothly with onward BRA connections from and to Gothenburg, Umeå, Malmø, Angelholm/Helsingborg, Visby and Ronneby among other Swedish destinations. BRA will additionally be commencing Airbus type jet operations at Aarhus during Summer 2023, with new flights to and from Palma de Mallorca for Danish tour operator Spies, after a multi-year agreement was entered into between the holiday operator and BRA to operate Mediterranean charter flights. "We are excited to welcome all sizes of BRA aircraft in the future", said Surley, "we are thrilled to be on the radar of both Spies and BRA as part of their new Nordic-wide co-operation and we hope to see many more such charter flights by our friends at BRA to a number of sunshine destinations in the future".
Stockholm and Amsterdam, the two newly announced European capital links coinciding with Aarhus Airport's completion of its new terminal facility, are a major expansion of the Danish airport's passenger infrastructure, which has doubled the available passenger throughput capacity and added extensive new amenities. Already in July the airport recorded +17% passenger growth versus 2019 and +13.5% in August - the highest growth rate among Danish airports. All-new food and beverage concepts, new airport retail, much-expanded car parking, new airside, gate, security, border and new arrivals facilities, as well as Denmark's very first in-terminal airport hotel. The new terminal includes a fully environmentally friendly exterior façade and while already operational, the airport expects the development to be fully complete before the city and airport of Aarhus play host to the Routes Europe 2024 event.