New April record at Aarhus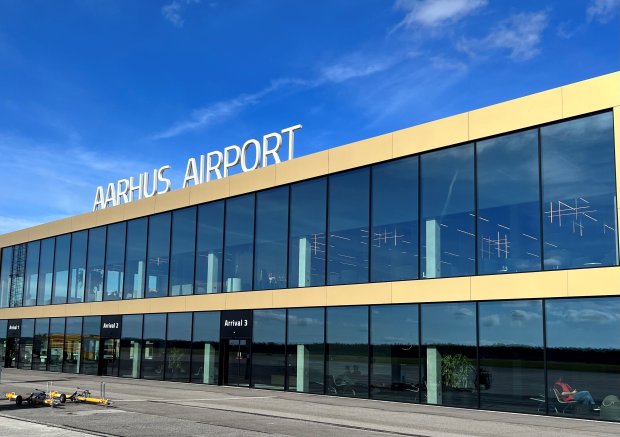 Wild growth in number of international travelers
There was more than spring weather at Aarhus Airport in April as 59% more passengers traveled to and from the Danish gateway's international destinations.
Record growth in passenger numbers – for the month of April a new record volume of customers used the Greater Aarhus airport, corresponding to a total passenger increase of +39% compared to the same month in 2022. The positive development also compares favourably with 2019's pre-pandemic international air traffic from and to overseas destinations. In April 2023 this increased by +44% compared to 2019.
"This huge increase in passengers in April is a strong indicator for the coming months, when the summer travel period really comes in to force. It corresponds with a marked increase in the number of departures to existing destinations as well as the return of some reinstated services and the start of new routes,as well as very full flights. Business routes are back in good shape and frequency, both city-break and sunshine destinations are popular with increasingly motivated travelers and a rise in inbound visitors", says David Surley - director of route development and marketing at Aarhus Airport.
The number of international passengers increased by more than 12,000 month-on-month, placing Aarhus third among Danish airports. April was the first full month with brand new routes to Faro in Portugal and Palma de Mallorca, as newly serviced by the airport's largest airline partner – Ryanair – which also increased capacity to both London and Gdańsk while resuming its schedule to Riga in Latvia. Swedish carrier BRA is flourishing on the daily route Aarhus-Stockholm, while SAS's Oslo route has regained the favour of business travellers. Bucharest, which Wizz Air commenced in late 2022 has been very well received by Greater Aarhus travellers, while the Egyptian destinations of Sharm el Sheikh and Hurghada have also attracted a particularly large increase in sun-seeking guests from all around mainland Denmark and reflected in April's compelling results.
The airport expects the positive development to continue, predicting it will soon no longer be relevant to compare with pre-pandemic times:
"We can soon put the time of benchmarking towards 2019 behind us. We are experiencing great demand for classic destinations while continuing to fully restore our route map offer. We are seeing new trends, guests have changed travel patterns and they are looking for new travel inspiration. We therefore work continually to fully restore connectivity in line with demand, while at the same time innovating with new exciting destinations", continues David Surley.
On the summer schedule ahead is the new Swedish destination of Visby on Gotland, which BRA has just announced, along with favourites Milan, Zadar, Corfu, Malaga, Preveza, Chania, Zakynthos, Cyprus and Bornholm among others. Tour operator Spies is gearing up with new flights to Mallorca and Gran Canaria, while Gislev Rejser has put Naples in to place for the autumn. Additionally, July onwards sees Ryanair further increase the number of double-daily departures to London.
Routes Europe: Aarhus Airport welcomes all Routes Europe 2023 delegates to enjoy coffee, tea and other energising beverages on the Aarhus stand (E30) throughout the event in Lodz. Aarhus will be the official host city of Routes Europe 2024 – visit the Aarhus Airport route development & marketing team to find out more about our destination.