Wizz Air Abu Dhabi Launches Flights to the Maldives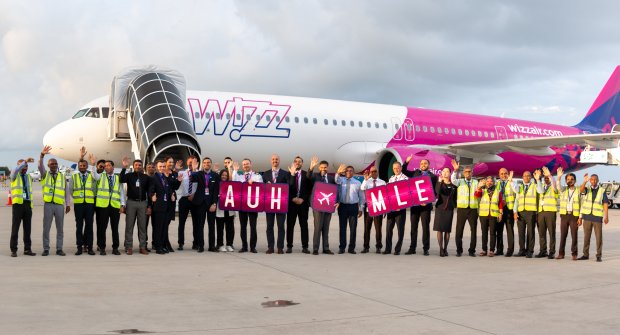 October 4, 2022 - Wizz Air Abu Dhabi, the ultra-low-cost airline of the UAE, has launched its first flight to Maldives.
The first flight, the Airbus A321neo aircraft was welcomed with a water salute and a traditional boduberu performance.
The event was attended by Dr. Abdulla Mausoom, Minister of Tourism, Mr. Mahjoob Shujau, MD & CEO of Maldives Airports Company, and Michael Berlouis, Managing Director of Wizz Air Abu Dhabi.
Corporate gifts were exchanged between the Maldives Airports Company and Wizz Air Abu Dhabi and a ceremonial cake was cut during the ceremony. The traditional Maldivian dance greeted the 213 arriving passengers on the maiden flight.
During the ceremony the Managing Director of Wizz Air Abu Dhabi, Michael Berlouis said "Offering the ideal escape for relaxation, self-discovery, and picture-perfect moments, it's no surprise that the Maldives is an ever-popular destination. In line with our commitment to offer our customers world class low-cost travel experiences, we are excited to now be flying to this tropical paradise, unlocking new travel options for those not only within the UAE, but also for self-connecting passengers."
Mahjoob Shujau, the CEO and Managing Director of Maldives Airports Company Limited said; "the number of travelers to the Maldives has grown significantly over the years, and this year, we are anticipating a new record that is higher than the pre-covid numbers."
The Abu Dhabi and Malé route will be operated four times per week in October, every Tuesday, Thursday, Saturday and Sunday. Increasing to six times per week in November and operating daily from December. The launch of the new route falls in line with the national airline's expansion plans and will be operated by the fifth aircraft that recently joined its fleet, the brand-new state-of-the-art Airbus A321neo aircraft.
All Wizz Air Abu Dhabi flights are operated on Airbus A321 neo aircraft, with 239 seats. Wizz Air has a young fleet composed of 5 brand new state-of-the-art Airbus A321neo aircraft, offering the lowest fuel burn, emissions, and noise footprint.