iGA September Newsletter: Magical journeys start here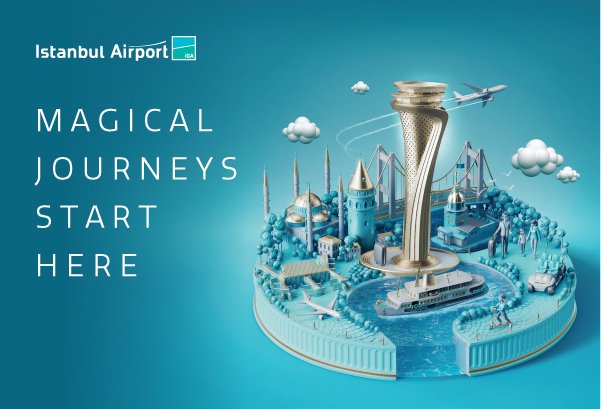 Istanbul Airport leads the way in responding to COVID-19
The COVID-19 pandemic has affected the airline industry tremendously. With protective
measures in place for the well-being and safety of passengers, Istanbul Airport is one of
the leading airports worldwide in the fight against coronavirus. Recently, Istanbul Airport
became the first airport to achieve Airport Council International (ACI) Airport Health Accreditation program. The accreditation program covers topics such as cleaning, disinfection, physical distancing, staff protection, passenger communications and passenger facilities.
First airport in the world...
ACI's new programme supports airports by evaluating new health measures and procedures introduced during the COVID-19 outbreak in accordance with ICAO Council Aviation Recovery Task Force guidelines. The new program also involves EASA-ECDC Aviation Health Safety Protocol and ACI EUROPE's Guidelines for a Healthy Passenger Experience at Airports worldwide. Istanbul Airport, which received the first "Airport Pandemic Certificate" given by the Directorate General of Civil Aviation of Turkey on
grounds of the tight measures taken to fight the COVID-19 pandemic and then signed
the "COVID-19 Aviation Health Safety Protocol" published by the European Union
Aviation Safety Agency (EASA), has received yet another international certificate to
manifest the measures it has taken. With its hygiene measures against the COVID-19
pandemic being updated at frequent intervals, Istanbul Airport continues to strengthen
its leading position with the certificate awarded by Airport Council International, thereby
securing its position among the most hygienic airports both in Turkey and worldwide.
Istanbul Airport brings the world closer – direct flights to 168 destinations have been resumed
With various countries gradually lifting travel restrictions all around the world, the number of passengers and flights is progressively increasing at Istanbul Airport. With 24 airlines already having resumed their scheduled operations from/to Istanbul Airport, Turkey's gateway to the world has now restored 168 direct destinations during the pandemic, taking its total direct destinations to 285. Turkish Airlines has seen the third highest movement, recording 20% increase from 21 July to today, as the number of domestic flights in Turkey has doubled, increasing by 24% since late-July.
Istanbul Airport Museum opens its doors to visitors
Istanbul Airport, Turkey's gateway to the world, breaks new grounds with an innovative
airport museum available to all passengers.
Istanbul Airport launches privileged service for passengers over 65
IAs flights resumed in June, bringing along a gradual increase in operational density,
Istanbul Airport is now offering special services for passengers aged over 65, those
who are most affected by COVID-19, to facilitate their travel and improve their airport
experience. The special services, which will be available for free or at a discounted
rate, are aimed at maximising the airport experience of passengers over 65.
An insight into Istanbul Airport's innovative key visuals
Istanbul Airport, which became a global transfer centre in its first year, highlights the
unique beauties of Istanbul via innovative key visuals designed to create "a new world"
and "a new story" by reflecting the legendary position of the airport, the magic it adds to
journeys and new experiences.
Focus of visual designs; the magic door opening to Istanbul...
Contact Us:
Sent by İGA Corporate Communications Team
In association with anna.aero Aviation Development PR
E-mail: customercare@igairport.aero
İGA – İstanbul Airport
İstanbul Havalimanı Terminal Cad. No:1
34283 Arnavutköy,
İstanbul / Turkey
2020
For more information please visit: https://www.igairport.com/en/press-center/press-room