Qatar's HIA held Celebratory Activations during the FIFA World Cup Qatar 2022™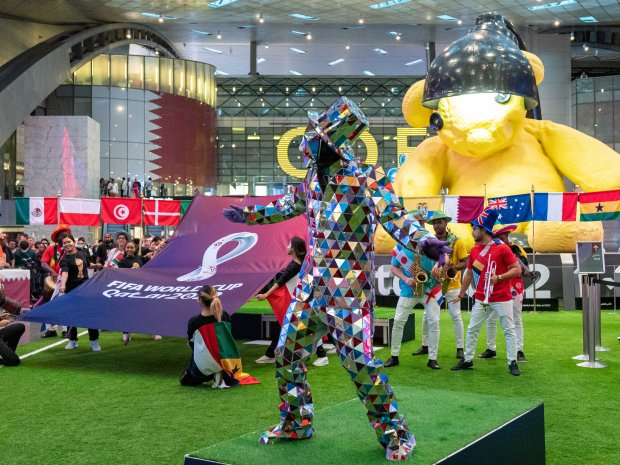 In a joyous and exhilarating month for the State of Qatar, its prestigious and award-winning airport Hamad International Airport (HIA) celebrated the FIFA World Cup Qatar 2022™ with fun activations at its premises – as travellers had the chance to engage and create memorable experiences for the very first FIFA World Cup in the Middle East and the Arab world.
Experiences at HIA (IATA code: DOH) start from the moment passengers set foot at the Official Airport Partner of the FIFA World Cup Qatar 2022™. To ensure travellers have a smooth and pleasant experience, MATAR, the Qatar Company for Airports Operation and Management, implemented a robust Airport Operations Plan which proved its effectiveness throughout the tournament. HIA had also operated a dedicated Event Management Centre and maintained the presence of a number of experienced staff on-ground during the entire period.
To guarantee millions of passengers and fans that travelled through the airport continued to witness a memorable FIFA World Cup atmosphere, HIA hosted a plethora of exciting activations and events throughout its premises. The FIFA-themed events included match day themed performances, a mosaic photo wall, several fan zones and viewing zones as well as dedicated kids' zones, in addition to FIFA-themed activities like augmented reality virtual football activity with interactive La'eeb Mascot, a dedicated "try your teams' jersey" booth for football fans to take photos with their favourite team jersey and more.
The mosaic photo wall, located next to the famous lamp bear at the centre of the airport's south plaza, provides passengers with the opportunity to have their picture taken and become part of the legacy of the FIFA World Cup Qatar 2022™.
The kids' zones at HIA featured a variety of special kids-friendly activities, including interactive drawing, face painting, soccer ball pit and giant Lego set-ups.
Other activities that involved HIA's partners included installing several booths in collaboration with the World Health Organization (WHO) and the Ministry of Public Health (MoPH) in Qatar, at HIA's north plaza – to promote WHO's "Sport for Health" and "Bring the Moves" campaigns.
The two-time World's Best Airport made sure to welcome the millions of passengers from across the globe to an extraordinary destination right in the heart of the Middle East with world-class services and hospitality that makes every moment, from their arrival until their departure, a happy and memorable one that will surely last a lifetime.