Hamad International Airport doubled its Passengers in 2022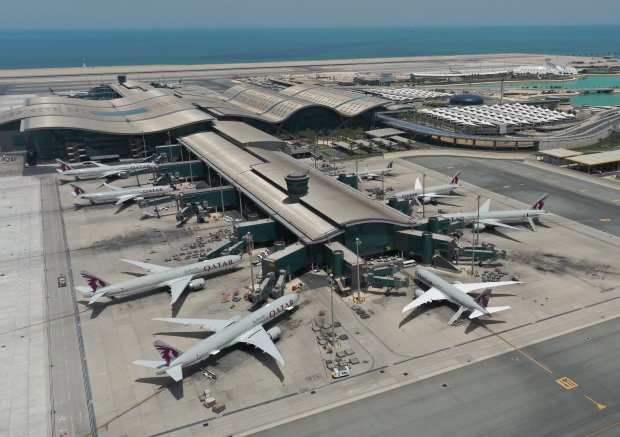 Point-to-Point Traffic grows by 85%, showcasing Qatar's dynamism as an emerging Tourism Destination
Hamad International Airport (DOH), the World's Best Airport and the gateway to the State of Qatar, witnessed a surge in passenger traffic in 2022, with a year-on-year increase of 101%, welcoming more than 35 million passengers. The number of air traffic movements was 217,875 in 2022, an increase of 28.2% compared to 2021. A total of 2,3 million tons of cargo was handled at Hamad International Airport in 2022.
After a first quarter of the year still impacted by Covid-related travel restrictions, passenger traffic at Hamad International Airport was boosted over the course of the year as Qatar and the airport prepared to host the FIFA World Cup Qatar 2022™. This was primarily due to Qatar Airways' development, the attraction of new airlines and the incremental traffic generated during the FIFA World Cup Qatar 2022™.
Airline Partnerships
The potential of the FIFA World Cup Qatar 2022™, Qatar's new world-class tourism infrastructure, the dynamism of Hamad International Airport's hub activities and the airport's novel air service development strategy attracted eight new airlines in 2022. The new passenger airline partnerships established in 2022 included Malaysia Airlines to Kuala Lumpur, American Airlines to New York/JFK, Royal Air Maroc to Casablanca, Finnair to Copenhagen, Stockholm and Helsinki, Air Algerie to Algiers and FlyNas to Riyadh and Jeddah. Wizz Air was the new Cargo airline partner in 2022. Overall, in 2022 Hamad International Airport served 44 operators and connected Qatar to over 170 destinations worldwide.
Top Destinations
The top ten most popular countries in 2022 out of Hamad International Airport by passenger volume were India, the United States of America, the United Kingdom, Saudi Arabia, Pakistan, the United Arab Emirates, Australia, the Philippines, Germany, and Turkey. The United States of America surpassed the 2019 passenger numbers with an increase of 51%, followed by Pakistan with 18%.
Hamad International Airport's top ten most popular destinations in 2022 were London, Bangkok, Manila, Colombo, Dhaka, New Delhi, Paris, Kathmandu, Kuwait, and Cairo.
The African continent was the fasted-growing region in passenger volumes surpassing the 2019 levels by 165%, followed closely by the Americas, which grew by 162%. The Indian subcontinent, one of the key markets for Hamad International Airport, is on its way to a full recovery, only 4% below the 2019 numbers.
Point-to-Point traffic grew by 85% in 2022, capitalising on the dynamics of the FIFA World Cup Qatar 2022™ and the new tourism infrastructure built over the past years. With new hotels and resorts, an amazing array of events, exhibitions and conferences, an upgraded port and an expanded airport, Qatar is developing into one of the emerging tourism markets offering unique experiences to visitors.
Reflecting on Hamad International Airport's performance for 2022, Engr. Badr Mohammed Al Meer, Chief Operating Officer at Hamad International Airport, said: "The year 2022 will remain a significant and memorable year as Hamad International Airport successfully hosted the world's top sporting event while at the same time serving surging passengers and cargo at its busy hub. 2023 looks to be a record year with new destinations and increased frequencies for short- and long-haul flights. Within our strategy of forward-thinking and preparedness, we delivered in 2022 - before the FIFA World Cup Qatar 2022™ - the first phase of our expansion, which increased our capacity up to 58 million passengers. Hamad International Airport is set to continue its growth post-FIFA World Cup, with phase B of its expansion project which has begun in January of 2023. The expansion will enable the airport to partner with even more airlines and transform it into the ultimate global hub".