Abu Dhabi International Airport Expands Air Services to the Russian Federation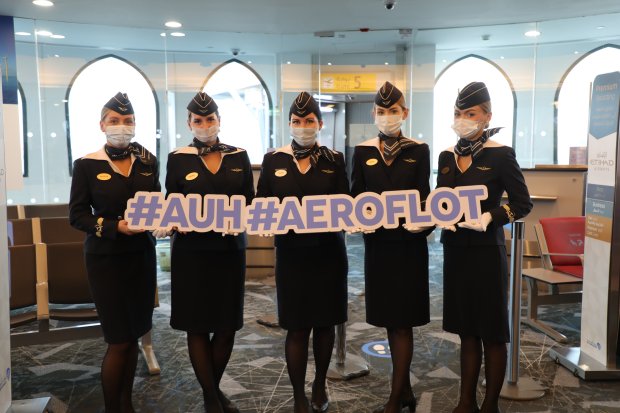 Abu Dhabi International Airport welcomes Aeroflot, the largest carrier in the Russian Federation, operating flights from and to Moscow
16th November update, Abu Dhabi, United Arab Emirates
Abu Dhabi International Airport (AUH) announced new services connecting the UAE capital, Abu Dhabi, to the Russian capital, Moscow, through new weekly flights by Aeroflot, the Russian national carrier, at Abu Dhabi International Airport.
Starting November 2021, Aeroflot started to operate three flights weekly from Abu Dhabi to Moscow Sheremetyevo Airport (SVO).
Francois Bourienne, Chief Commercial Officer of Abu Dhabi Airports, said: "We are pleased to welcome Aeroflot amongst our growing list of international carriers. These developments are an honest reflection of Abu Dhabi's position as a growing international travel destination."
He added: "We look forward to a new era of enhanced connectivity between the UAE and Russia and we are confident our strategic partnerships with carriers will help unlock further opportunities."
"We are excited to start operating flights between Abu Dhabi and Moscow. This development marks a significant milestone in our expansion plans in the Middle East. We are confident that the new offering will appeal to the ever-growing air passenger market in Abu Dhabi," said Vitalii Ogurtsov, Regional Manager at Aeroflot.
Abu Dhabi International Airport welcomed 670,000 passengers in the month of October 2021, the highest ever since beginning of pandemic, after Abu Dhabi lifted all quarantine procedures for all vaccinated travellers from around the world in September 2021 allowing seamless entry to the capital.
Abu Dhabi International Airport currently serves 85 destinations on 20 airlines with 548 flights per week.
You can follow Abu Dhabi Airports on:
Twitter: https://twitter.com/auh
Instagram: https://www.instagram.com/adairports
LinkedIn: https://www.linkedin.com/company/abu-dhabi-airports
Youtube: www.youtube.com/user/AUHAirport
Facebook: http://www.facebook.com/adairports
Website: www.adac.ae www.abudhabiairport.ae
Press Office:
CorporateCommunications@adac.ae