Eindhoven Airport covers walking routes to / from aircraft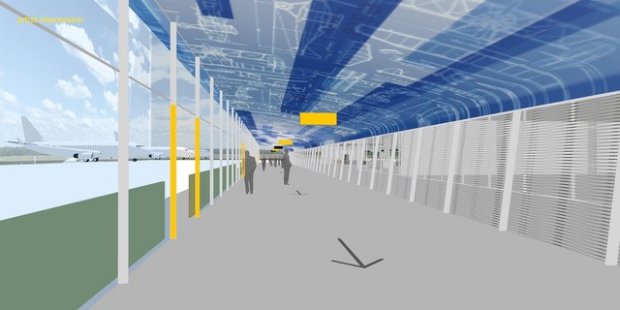 Eindhoven Airport is on the eve of another major quality improvement.
The airport will start building a modernly designed covered gallery on the walkways on the platform before the summer. This allows passengers to walk dry to and from the aircraft. The new construction of approximately 600 meters protects passengers against the weather.
This makes traveling to and from Eindhoven Airport even more comfortable. In addition, the gallery offers a surprising first impression of the region on arrival and last impression of the region on departure from Eindhoven Airport. This is because the structure will have a special design and design that matches this region. Solar energy is used in the roof. Reusable materials are also used (circular construction). The gallery is ready for the start of the winter season (end of October 2020). The activities take place as much as possible during the night. The daily operation is not affected by the construction.
Eindhoven Airport focuses on continuously increasing the quality of the airport. This translates into optimizing the infrastructure, facilities and the service to passengers and visitors. Examples of this are the delivery of multifunctional parking building P1 (including public transport terminal) in October 2019, the redesign of the forecourt and the construction of the Airport Boulevard that will be delivered in April 2020, and the delivery of the business lounge and security lanes with new scanners in December last year.