Partnership Eindhoven Airport and PSV extended and expanded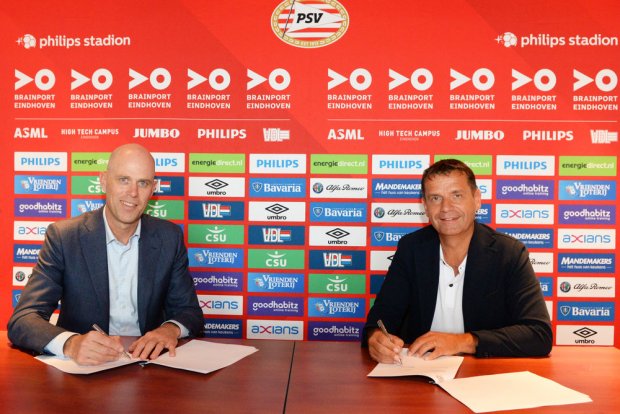 Roel Hellemons, director of Eindhoven Airport and Frans Janssen, commercial director of PSV.
PSV and Eindhoven Airport have extended and expanded their cooperation. Until at least the summer of 2023, Eindhoven Airport will be the club's official airport. This means that the airport will continue to be the starting point for PSV's international campaigns in the coming seasons. Eindhoven Airport as the Airport of Brainport Eindhoven will also continue to work with PSV and the other Brainport partners on strengthening the Brainport Eindhoven Metropolitan Area.
More intensive cooperation
Thanks to more intensive cooperation, Eindhoven Airport is entering the higher category of PSV's Partner and Sponsor pyramid. "We are of course very happy that the extension and upscaling of the mutual agreement is taking place at a time when the economic prospects provide less certainty," said Frans Janssen, Commercial Director of PSV. "The expansion of this partnership also fits in well with the Brainport Partnership and the role that PSV wants to play together with its partners in the region. An extension of the cooperation with the airport of the Brainport Region fits in perfectly with this. Roel Hellemons, director of Eindhoven Airport: "Connecting Brainport and Europe and contributing to highlighting even more what the Brainport region has to offer in many areas. With the extensive collaboration with PSV, we are happy to contribute to this by also giving this icon a prominent place at the airport. Because this metropolitan region deserves international attention. The airport is a platform for this that we are happy to make available. This is how we make the region even better. "
Official Airport PSV & Brainport Eindhoven
Part of the extensive cooperation is that Eindhoven Airport will cooperate with PSV in the further promotion of the Brainport Region. The parties support each other's initiatives in this regard. For example, the Brainport Region airport is currently constructing a covered walkway on the platform that is expected to be completed this fall. This 600-meter-long roof will be an eye-catcher and, as it were, a showcase in which the region, Brainport and PSV will be given a prominent place. As one of the most important international 'gateways to Brainport', the airport therefore welcomes some 6.7 million people at Eindhoven Airport every year.
Official Airport program
Whenever possible, selection, youth teams, staff, scouts and management fly from the airport to all destinations abroad. PSV's business relations also travel via Eindhoven Airport during European trips. Thanks to the official airport program, PSV has various privileges when traveling, such as its own check-in desk, parking spaces and security passage.