Tolmachevo - The first in Russia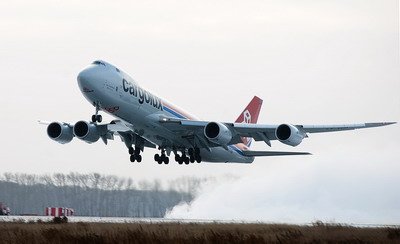 November 26, Novosibirsk airport (Tolmachevo) became the first Russian airport, which took a new type of the largest commercial cargo aircraft Boeing 747-8 of the Luxembourg airline Cargolux.
Boeing747-8 is the largest commercial cargo aircraft and belong to a new generation of the famous series of the Boeing 747. It has a lengthened fuselage, redesigned wings and improved economic efficiency. This airliner is the longest passenger aircraft in the world - nearly one meter longer than the Airbus A340-600. It is manufactured in a cargo and passenger versions.
Cargo Boeing747-8 landed at the Tolmachevo airport at 08:51 local time, following from Shanghai.Airline specialists have provided all necessary technical support for the aircraft for 50 minutes.Boeing747-8 filled around 88 tons of fuel for the flight to final destination - Luxembourg. Landing was carried out on the first runway, whilst advantages of the runway-2, which was put into operation last year (certified by ICAO Category II), the crew has assessed by performing a takeoff.
Heads of the airport, as well as more than 40 spotters, fans of aviation photography, that came from six cities, including Moscow, in a solemn atmosphere greeted the new cargo airliner. The Cargolux crew thanked the airport specialists for quality and operative service. The appearance of the Luxembourg Cargolux Airlines International at the Tolmachevo airport in 2011 was preceded by a series of activities. In July, by results of the evaluation, company's representatives had made a positive decision to start flight operations with technical landings at the Tolmachevo airport for flights following from Asia. In September, the Boeing 747-400 made its first flight, and on November 24 at the jubilee International Exhibition "Transport of Russia-2011" in Moscow in a solemn atmosphere was signed a ground handling and fuel providing agreements between the airport Tolmachevo and Cargolux Airlines.
For the Novosibirsk airport (Tolmachevo) the new largest commercial cargo aircraft Boeing747-8 is not the first experience in receiving large aircraft. For example, last year at the Novosibirsk airport ground handling for the world's largest cargo aircraft AN-225 "Mriya" was performed, the "Transaero" airlines flights were carried out on the largest twin-engined airliner in the world - the Boeing 777-200ER , and this year Novosibirsk airport (Tolmachevo) is the one of the few has been authorized to accept the world's largest passenger aircraft Airbus A-380.