New observation deck as of 1 December 2011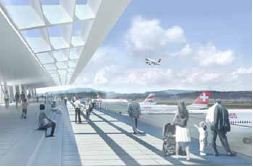 The new observation deck at Dock B will be opened on 1 December 2011. Airport fans can look forward to a restaurant, play area, a wide range of information and entertainment and the impressive, contemporary architecture.
After 48 months of the project and 18 months of pure construction, the long wait is finally over: the modern observation deck is ready for the numerous airport fans and offers an attractive range of options..
Offering
Visitors will have a full view of the runways and can observe the air traffic up close. Plunge into the fascination of flying – while children have fun in the covered airport-themed play area, adults can enjoy the contemporary design.
Anyone wishing to learn more about the airport and air traffic can take advantage of the wide range of information: The "Kids Tour" – specially designed for children – allows children to explore the fascinating world of the airport. Adults can make use of a number of different information options.
The new Aviolino restaurant is on hand to provide sustenance. During the cold periods, the cosy atmosphere offers a pleasant place to dine, while ceiling-height windows enable guests to observe flight operations while they eat. In the summer, visitors can also enjoy service on the piazza.
Opening hours and prices
The popular family excursion destination and the Aviolino restaurant are open during the summer daily from 08:00.-.21:00 and during the winter from 09:00.-.18:00. On the observation deck, children aged under 10 can play for free. Children aged 10.-.16 pay CHF 2, adults aged 16 and over can use the facilities for CHF 5.
Facts and figures
Around 40 different companies and 1,000 people were involved in the construction of the entire Dock B and observation deck. The space, covering 7,000 square metres, comprises four different categories of offerings for visitors. There is a restaurant that occupies 250 square metres, a children's play area, a number of seating areas and information for both adults and children. The central idea "The fascination of flying" is continued through the whole offering and highlights both the emotional pleasure of flying as well as the technical fascination with flight operations.