London Oxford gains 21% increase in usable runway length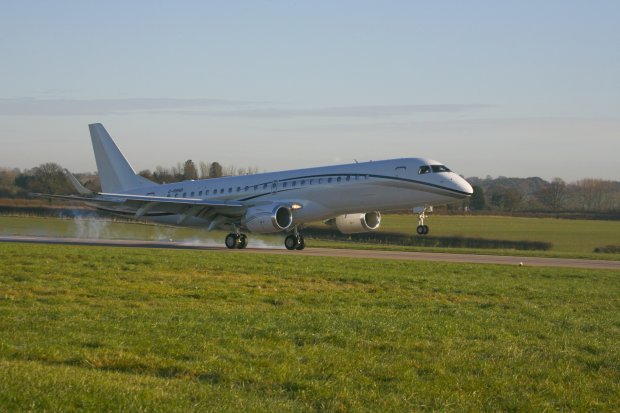 Newly declared CAA runway classification makes the Thames Valley region's airport more accessible than ever before to more aircraft types
March 2011 – Twenty three years after extending the main runway's physical length and four years after replacing that with a wider and stronger surface, London Oxford Airport now has approval for the use of the whole runway length with a 21% (896ft/273m) increase in the declared take-off distance.
The licensed take-off distances are now 5,223 ft (1,592m) and 5,112 ft (1,558m), allowing for many more business aircraft types to achieve maximum take-off weight or near maximum out of Oxford for the first time. Additional aircraft types will now be able to operate transatlantic and non-stop Middle Eastern trips from the airport, whilst several regional airliner types will now maximise passenger loads from the airport.
The increased useable lengths come swiftly after having upgraded the runway status from Code 2C to Code 3C status. This was achieved following an extensive program to remove obstacles and safeguard the safety surfaces to the sides of the runway and on the approaches at either end.
Mike Sparrow, Airport Manager commented 'We initiated a program a couple of years ago to relocate navigation aids and deal with several hundred trees and other obstacles with the aim of achieving Code 3C runway parameters following the new runway being laid and widened in 2007'.
David Surley, Head of Route Development added 'This now makes a substantial difference for the future evolution of the airport. Many business jet and regional airliner types can now carry more passengers or achieve significant gains in range from the airport. Outbound transatlantic charters are now possible on certain types opening up the North American market for us for the first time. On the airline side we can now open the doors to operations to the furthest parts of the European market, indeed this summer sees our first Mediterranean scheduled service to Mallorca'.
Recently the airport received its largest ever aircraft, the Embraer Lineage, also known as the EMB-190, which in airline configuration can carry 100 passengers. Operated by Oxford-based charter company, Hangar 8 plc, the Oxford-based aircraft, the UK register's largest charterable private jet, can easily undertake transcontinental missions from London Oxford Airport.