Times Union: Allegiant launches nonstop service from Albany to Nashville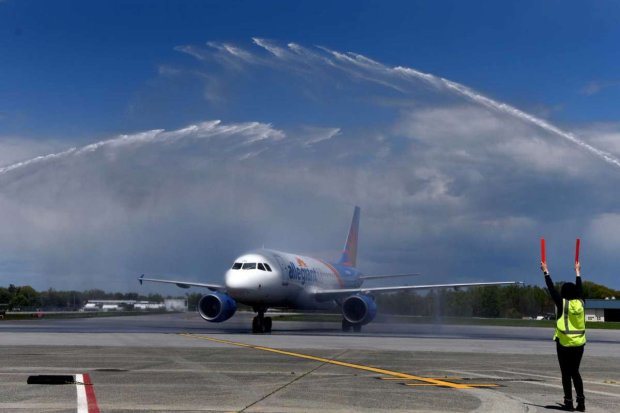 (May 14, 2021) - Allegiant Air's first nonstop flight to Nashville departed Friday shortly after noon from Albany International Airport. Earlier, the flight arriving from Nashville passed under the traditional ceremonial wall of water.
Earlier, airport planner Steve Iachetta serenaded passengers waiting to board the Nashville flight with his violin, while one Nashville-bound passenger showed off his blue suede shoes.
The new service is part of an effort by the Albany County Airport Authority to expand the number of destinations served nonstop from the Capital Region.
Allegiant, as one of two ultra low-fare carriers at Albany — the other is Frontier Airlines — is expected to put downward pressure on air fares, at least over the long term. Fares nationwide have been spiking as customers start traveling again, boosting passenger loads. While airlines have added capacity, it hasn't kept up with the surge in travel.
On Friday, a ticket for travel on Monday was priced at $134, with a return ticket the following Friday priced at $61. The Nashville flights operate on Mondays and Fridays and will continue through mid-August, according to Allegiant's website.
"Allegiant's confidence in the Greater Capital Region market is evident by the airline's commitment to expanding Albany service to new and exciting destinations such as Nashville," said Philip Calderone, CEO of the Albany County Airport Authority. "We look forward to growing our relationship with Allegiant and their future expansion at Albany."
The inaugural departing flight carried 136 passengers on an Airbus jet. Allegiant serves a number of popular resort destinations from Albany, including Sanford, Fla., Myrtle Beach, Tampa, and Punta Gorda, some with seasonal service.