Albany Business Review: Albany airport in line for $28 million for improvements as part of federal infrastructure bill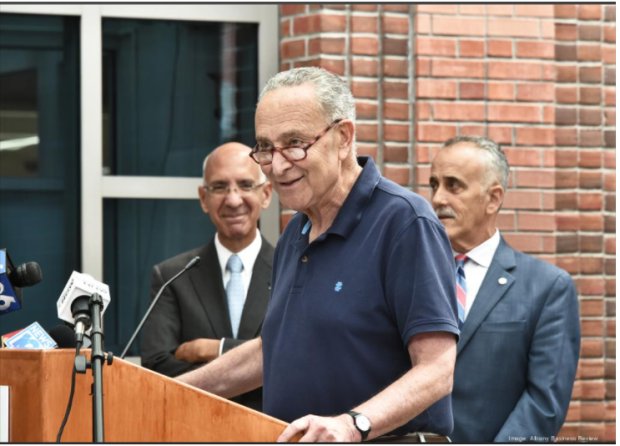 (August 18, 2021) - Albany International Airport is in line for $28.7 million in federal funding for improvements as part of the $1 trillion infrastructure bill that the Senate passed last week.
The money would allow the airport to expand the terminal and alleviate long security lines that often back up to the pedestrian walkway from the parking garage.
Sen. Chuck Schumer visited the airport to make the announcement alongside airport CEO Phil Calderone and CDTA president Carm Basile. CDTA is also in line for $113 million over the next five years as part of the infrastructure bill.
Schumer said improvements to the airport are needed to to make it more be suitable for the new industries expanding here, including semiconductors and the gaming industry.
"This funding is more than just small peanuts, for all this funding will kickstart the expansion of the Albany International Airport," Schumer said. "[The 28 million] will provide much needed funding to make improvements at the TSA security checkpoint, and that can usher in more speed, more community development and more economic opportunity. When people can come in easily they can use it work, they travel more, but also businesses will come here more than the region and stay here for the region."
The infrastructure bill is a main priority for President Joe Biden, but it still needs to pass the House.
Once signed, it would kickstart funding for the airport's three main priorities, which Calderone outlined to the Business Review in July:
An expansion of the terminal to redesign the pre-TSA checkpoint. The terminal was designed before 9/11 and the checkpoint was created after that, which doesn't allow for large gatherings of travelers or social distancing.
A new private aircraft hangar that's larger than what Million Air now offers. The airport has been turning away private jets because there's not enough room.
Upgrading cargo facilities, which are over 20 years old and need modernization.
Albany International Airport has had a tough last 18 months as it suffered when travel stopped during the pandemic and was losing up to $1 million a month in revenues.
But it's continuing to add additional flights this winter to Miami, with Frontier Airlines starting twice-weekly service between ALB and MIA on Nov. 4. American Airlines is also adding new service between Albany International Airport and Miami in November.