Sundair Presents Flight Program from Bremen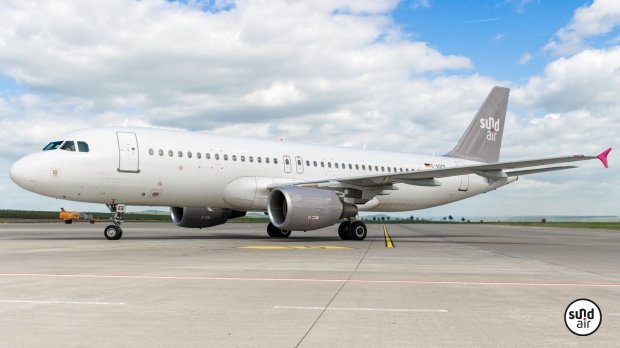 The Stralsund airline Sundair will be stationing an Airbus A320 at Bremen Airport in the late summer of 2019, offering guests in and around Bremen the opportunity to start their holiday in comfort.
The first flight from Bremen takes place on August 31, 2019 and brings travelers to the Greek holiday island of Rhodes. Then, until the beginning of the winter timetable, the popular holiday destinations Mallorca, Crete and Antalya as well as the Canary Islands Gran Canaria and Fuerteventura are served.
From November Sundair will start twice weekly to Hurghada in Egypt. From February, Marsa Alam will also complement the airline's destination portfolio on the Red Sea. In addition to its offer in Egypt, Sundair also operates weekly flights to the popular winter destinations of Tenerife, Gran Canaria and Fuerteventura in the Canary Islands. The Spanish holiday island of Fuerteventura can also be reached from February 2020 with two weekly flights. A total of up to 22 launches and landings per week from Bremen Airport are planned.
"We are looking forward to Berlin, Kassel and Dresden now also in Bremen to start and fly travelers on vacation. The strong demand in Bremen has encouraged us to continue and expand our commitment in the coming summer. Our guests can look forward to great holiday destinations on the Mediterranean Sea, the Red Sea and the Atlantic Ocean. Of course there is the good Sundair service that our customers know about us, "says Marcos Rossello, Managing Director of Sundair. Airport Managing Director Elmar Kleinert adds: "We are pleased to announce that Sundair has a new airline at Bremen Airport, which intends to expand its commitment in Bremen over the next few years and will be stationing an aircraft with us from autumn.
Press contact : presse@sundair.com
Sundair Winter timetable 2019/2020 from Bremen Airport:
04.11.2019 20.04.2020 Monday Bremen - Hurghada - Bremen
05.11.2019 19.11.2019 Tuesday Bremen - Antalya - Bremen
04.02.2020 14.04.2020 Tuesday Bremen - Fuerteventura - Bremen
06.11.2019 15.04.2020 Wednesday Bremen - Tenerife - Bremen
07.11.2019 30.04.2020 Thursday Bremen - Hurghada - Bremen
01.11.2019 22.11.2019 Friday Bremen - Antalya - Bremen
07.02.2020 17.04.2020 Friday Bremen - Marsa Alam - Bremen
02.11.2019 25.04.2020 Saturday Bremen - Fuerteventura - Bremen
03.11.2019 19.04.2020 Sunday Bremen - Gran Canaria - Bremen