Kochi Airport to commission its General Aviation terminal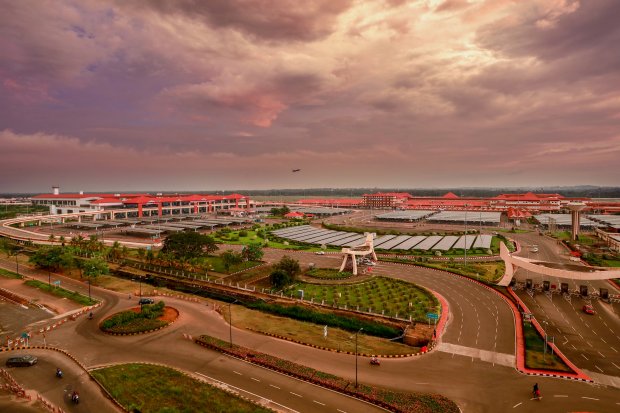 • VVIP safe house in 10,000 sft • 50 budget rooms for a short stay
India's first Public-Private Partnership airport is all set to commission its General aviation terminal in a couple of months. The Terminal-2, which has not been in use is to be converted into three utility blocks catering to business jets, VVIPs, and passengers on a short stay.
Terminal 2 has a built-up area of a hundred thousand square feet is currently undergoing major renovation work to cater to the business jets. Thirty percent of the built-up area will be used for block one which will be converted as an exclusive business jet terminal with 3 lounges. This terminal will facilitate both international and domestic business jets. Exclusive areas for customs, immigration, and security holding operations will also be allotted. Block-2 will have an area of 10,000 SFT earmarked to house a VVIP safe house. This concept will ensure a hassle-free movement of passengers during the VVIP movement. Block-3 will have an area of 60,000 SFT. Also, CIAL is planning to build 50 budget rooms for the passengers who intend to short stay at the airport. It is planned to apply the dynamic tariff concept; wherein the rent will be calculated on hour based scale.
T2 Terminal will partially convert into a business jet terminal at the cost of Rs. 3.75 million USD. This will address the need for more facilities to cater to the rising number of chartered flights to the airport and a safe and secure place for VVIPs. The handling capacity of the 3,150 sq m business jet terminal will be 20 passengers per hour. The facilities include car porches, a grand lobby, luxurious lounges, check-in, immigration, customs, and security frisking counters for the smooth movements of guests. The project will be inaugurated in November 2022. After the construction of the business jet terminal, the remaining space at the old domestic terminal, T2, may be developed for setting up short-duration stay rooms, meeting rooms, lounges, conference halls, etc.CIAL Managing Director S Suhas IAS said that the conversion of Terminal 2 is an ambitious idea to tap potential revenue. We plan to accommodate a Business Jet terminal, A VVIP safe house, and a transit hotel in the sprawling terminal 2 which stands unused now '': Suhas added.