Edinburgh Airport marks KLM centenary with water cannon welcome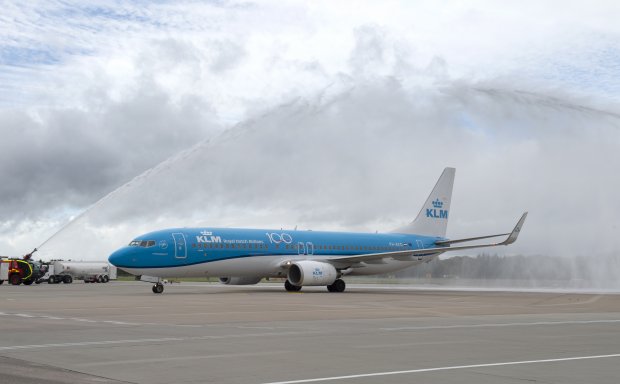 On Monday 7th October 2019, Edinburgh Airport marked the 100 year anniversary of airline KLM Royal Dutch Airlines with a special water cannon to welcome one of its flights between Amsterdam and Edinburgh.
Flight KL1281 was greeted with the salute as part of a worldwide series of events to mark 100 years to the day since the airline was founded. Originally known as the 'Royal Dutch Airlines for the Netherlands and Colonies', it later became KLM Royal Dutch Airlines.
Celebrations for passengers took place in the check-in hall at Scotland's busiest airport, with the KLM area decorated in KLM100 branding and KLM100 branded cookies handed out. There was also a special cake cutting just as passengers were boarding the flight.
KLM, the world's oldest airline to still operate under its original name, currently operates up to five flights a day from Edinburgh to Amsterdam, giving passengers based in the Edinburgh region opportunities to connect onto a network of over 165 destinations with a seamless transfer at Schiphol Airport Amsterdam.
Gordon Dewar, Chief Executive of Edinburgh Airport said:
"It's a historic day for KLM as they celebrate their centenary and we are excited to be joining airports across the world in marking this momentous day.
"The longevity of the brand is testament to the dedication and commitment that KLM has to its customers, but also the loyalty its staff has to the airline. I know that the people of the Netherlands will be proud of their airline reaching this milestone and we are proud to work closely with such an established partner."
Benedicte Duval, General Manager for Air France – KLM in the UK & Ireland commented:
"It is fantastic to be celebrating this special milestone with our passengers arriving and departing from Edinburgh airport today. Scotland is an important market for KLM and we are proud to connect the people of Edinburgh to the world, and the world to this beautiful region.
Having operated daily flights from Edinburgh for over 30 years, we are grateful for our long standing partnership with the airport. A company only reaches its 100th anniversary through two elements: loyal customers and great staff and what makes KLM so special is the authentic way in which we are able to combine the two. We look forward to welcoming our Scottish passengers on board for the next 100 years."