Inverness Airport - Scotland's only female Airport Fire Manager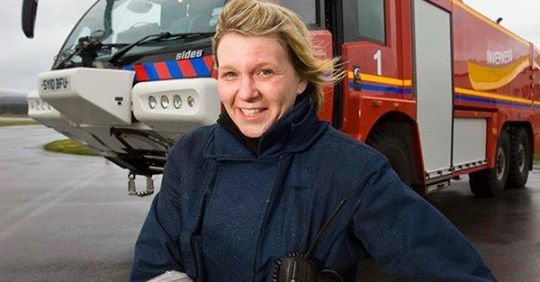 Andrea Macdonald, the only female Airport Fire Manager in Scotland, talks about her determination to be a firefighter from a young age and how she hopes to inspire other women to pursue a role in the fire service. Andrea is one of four female Firefighters based at Inverness Airport, loving the variety and fast paced nature of the role. Today, less than 10% of UK firefighters are female and Andrea believes more young women should join-up, in a bid to revolutionise the system.
Andrea gives insight into how she became a firefighter, "I was born and raised in Golspie and always wanted to be a fire woman. It's the 'London's Burning', lifesaving role you play as part of the emergency services which had me drawn in. My friends and family thought it was quite funny and I guess, at the time, it was an unusual career choice for a young girl".
"Throughout school I was encouraged to pursue what was considered a more appropriate career and studied Law at college in Glasgow. A regular 9am-5pm work schedule followed and I was soon itching for a change. It was a fire service recruitment sign at a local station that caught my eye and prompted me to apply to be a firefighter".
"There were a number of physical fitness and practical tests alongside the application but I've always been active so these weren't too daunting. Before long, I was a Retained Fire Officer in Northamptonshire and then joined the Fire Service at Inverness Airport in 2012".
"I like to think that gender is less significant in this day and age, mindsets are changing. I can't deny that it can be tough at times. My challenges have revolved around the fact I'm younger than many of the team I manage, which is sometimes wrongly interpreted as less experienced. After a period of two years as Airport Fire Manager, I'm fortunate that I have a good working relationship with my colleagues and there's camaraderie within the team".
Inverness Airport provide second to none firefighter training. The principle objectives of the Inverness Airport Fire Service is to save lives in the event of an aircraft accident or incident and to reduce damage to property and the environment. The diverse nature of the operation presents challenges that requires unique solutions and collaboration with other emergency services and external organisations. Inverness AIrport offer a continuous competence-based development programme for all fire-fighters to develop and maintain their knowledge and skills from the outset.
Andrea and the Inverness Airport Fire Service team also conduct a number of school visits each month and welcome other groups such as the scouts, brownies and youth clubs to visit the Fire Station. This is an educational programme but it is also designed to spark interest and encourage the younger generations to consider a role in the fire service. Andrea talks about the variety in her role and that from community work to specialist rescue skills, the Fire Service offers a varied and flexible career path for someone who doesn't want a desk based job. "No two days are the same as a firefighter. Half the day I'll be head-to-toe in high visibility clothing and my wellies and the other half I'll be dealing with HR related paperwork from the office".
"We have a chance to encourage women to consider roles that are typically male-dominated occupations and balance the male and female ratio".
International Women's Day takes place on the March 8. Designed to celebrate women's achievements, while calling out for a more gender-balanced world #BalanceforBetter.