79 destinations from Poznań-Ławica Airport in 2020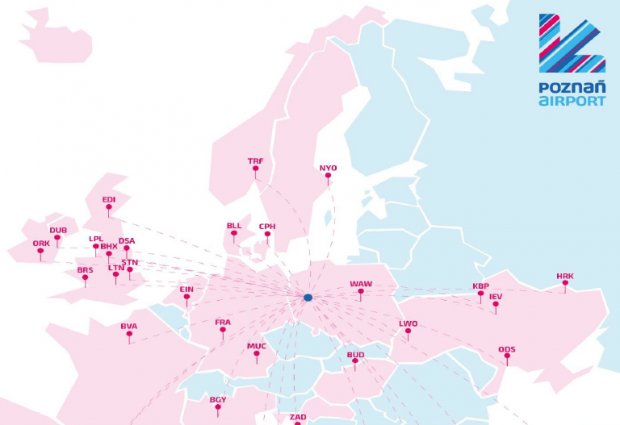 For 2019, Poznań-Ławica Airport ended with a result of 2,379,635 passengers, almost 3% more than planned for the year.
In 2017-2019 air traffic to and from the airport saw constant growth, the increase in this time amounted to 12.7%.
2020 will be a breakthrough year for Poznań-Ławica Airport as, for the first time, the airport offers as many as 79 destinations.
In 2020, carriers will offer 79 routes from the Greater Poland airport.
New carrier - Norwegian Airlines.
Four new routes from Ryanair.
Eight new destinations from charter carriers.
LOT Polish Airlines increased the number of flights to Warsaw to 36 per week.
New investments at the Poznań airport.
For 2020, POZ has prepared 36 destinations for the region of Poznań and 43 charter destinations.
Regularly from Poznań; Birmingham and Kutaisi (Wizz Air) as well as Budapest, Odessa, Kharkiv and Paris (Ryanair) are new directions that have already appeared on the timetable of Poznań-Ławica Airport.
Starting from the Winter 2019/2020 season, the national carrier PLL LOT also increases frequency of flights on the route from Poznań to Warsaw, offering up to 6 flights a day within the working week (weekly number of flights will increase from 30 to 36), and Lufthansa increases the number of rotations to Frankfurt.
New Destinations
As many as 8 new products for the spring / summer 2020 season via tourist offices: Larnaca, Ercan, Sharm El Sheikh, Araxos-Patra, Almeria, Minorca, Enfidha, Salalah.
New Carriers
The year 2020 sees a new airline at Poznan airport - Norwegian.
Already on sale, this carrier provides two connections - to Oslo (to Gardermoen airport) and to Copenhagen. Norwegian airline will announce the third operator of the LCC segment at the airport in Poznan.
Mariusz Wiatrowski, President of Poznań-Ławica Airport, said the following:
Constant growing trend of interest in our airport by carriers shows first of all, it is an airport created for passengers. During the interview for the portal I said among other things that last year was very good for our airport, even in terms of the number of new connections announced, and a decrease of 3.9% is due only from a high comparison database.
In 2018, we recorded an increase in traffic, when compared to 2017, by 33.7 percent, which gave us the second place in Europe among airports serving up to 5 million passengers a year. Whereas on the charter traffic market - by as much as 65.9 percent, probably the highest in Europe.
It has meant that over the past two years, even with negative dynamics in 2019, we achieved average annual growth in this market Checked-in passengers at 28.7 percent and an average annual average over a three-year period the increase is 25.3 percent, still higher than the average for the entire Polish market.
In our multi-year program we have planned that this year we will achieve historically high results, we will serve 2.56 million passengers. We continue to maintain these plans, particularly because we are the second regional airport in Poland, behind Katowice, in terms of charter traffic, and this market still has high growth potential.
We currently offer 43 charter destinations, including 8 new ones. However, with carriers such as WizzAir and Ryanair we are increasing to 36 destinations in scheduled flights, some of them launched during the summer season. Very important that the directions Scandinavian, among others to Oslo Gardermoen, Norwegian Air entered us again, doubling also a connection to Copenhagen, still served by SAS, which is good a signal in assessing its potential.
We also plan investments in 2020 that will make life easier for all passengers and allow even more efficient check-in and security control.