Chopin Airport has launched modern waiting rooms for Non Schengen passengers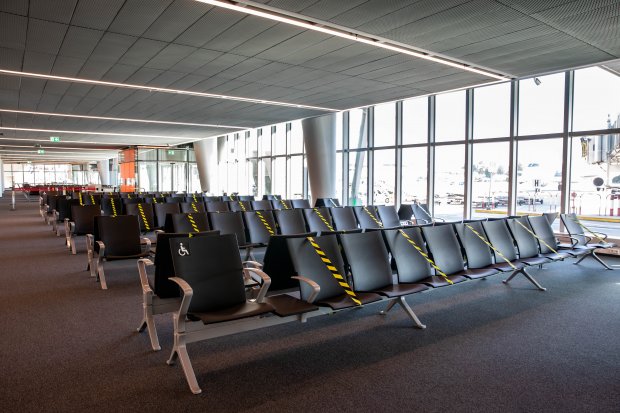 From July 1st, passengers departing from Chopin Airport to countries from the Non Schengen zone can use 4 new departure lounges (gate).
The new waiting rooms (1N-4N exits) are located at the level of the airport board and were designed for passengers of those flights whose planes stop at the so-called remote positions that can only be reached by bus.
- Coronovirus pandemic, suspension of passenger traffic, and closing of the country's borders almost completely limited the operation of the airport. However, in these difficult times we have not remained passive - said Piotr Rudzki, the spokesperson of the capital's port. - We have been properly prepared to resume passenger air traffic in a completely new reality. One of such activities is to prepare a zone with 4 new waiting rooms (gate) for people who will travel from our airport to countries outside the Schengen area.
The entire waiting room space can accommodate up to 1,000 people (although in epidemic times it is half the number), which in practice means that up to 250 passengers can be served at each of the four exits. In addition, each gate is equipped with four board card readers, which allows parallel boarding of four queues.
In addition, waiting rooms are equipped with comfortable seats (including social distance), some of which have built-in USB ports and electrical outlets. Passengers can not only use the new toilets (women's, men's and for people with disabilities), but also a free shower and a childcare room. What's more, in the near future waiting rooms will be equipped with vending machines and a catering trolley.
However, these are not all changes. On Tuesday, July 2, 2020, Runway 1 (11-29, Ursynów - Ursus) was restored for use on its full length, which means that it is already available for air operations. From mid-March this year. was closed for operational reasons and a coronavirus pandemic situation. All operations took place on Runway 3 (15-33, Piaseczno - Ochota / Wola / Bemowo). From now on, both runways can be used again, depending on weather or operational conditions.