Smiling Day 2019: cultural and gastronomic heritage in the spotlight this year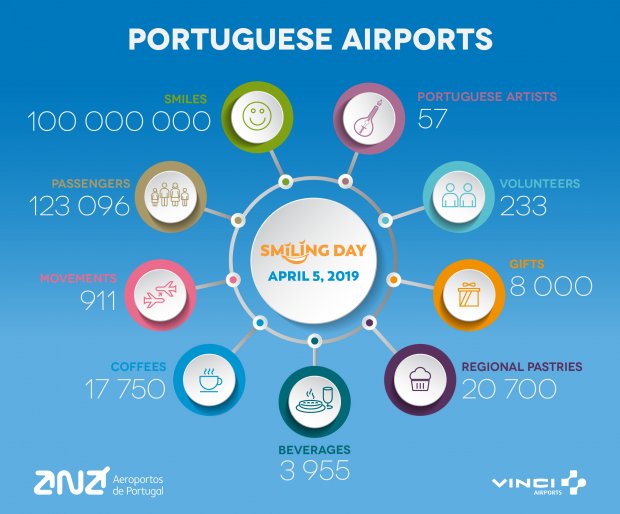 The 7th edition of the "Smiling Day", which took place on the 5th and 6th April 2019 in the 46 airports of VINCI Airports network
Nine Portuguese airports participated in this edition. For the first time this year, included the airports of Belgrade in Serbia, Orlando in the United States and Liberia in Costa Rica.
In addition to conviviality and a cheerful atmosphere, confirmed VINCI Airports' commitment to offering passengers a unique quality of service, with the ambition of remaining attentive to its passengers and their expectations, as well as offering innovative services and an always more fluid and pleasant experience. This translates into a direct, smiling interaction between the staff operating the airports and the passengers traveling there. Thus, for one day, employees and partners of our platforms were mobilized to meet passengers and offer them a warm and personalized welcome.
The 2019 edition was placed this year under the sign of the celebration of the territories served by the 46 airports of the network. The program includes many gastronomic and cultural events, artistic performances.
This year's event was a success: in Portugal, more than 250 employees, welcomed 123,096 passengers flying in or out on 911 flights.
Finally, passengers had the opportunity to participate in a competition to win flights to the destinations and airports of the VINCI Airports network by posting their photo #SmilingDay19 on social media to win air tickets connecting airports from the VINCI Airports network or maiden flights.