Batumi Airport welcomes Aktau flights of SCAT Airlines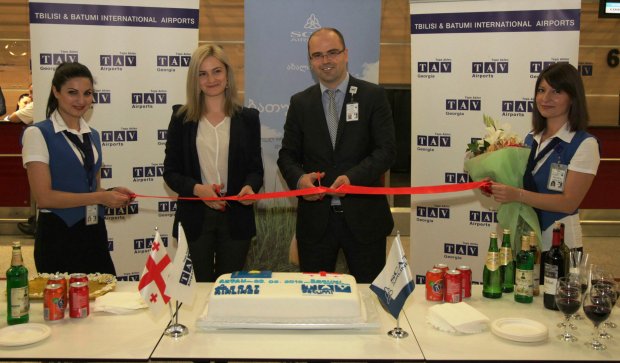 .
Batumi International Airport, operated by TAV Georgia, welcomed the first flight from Aktau, Kazakhstan performed by SCAT Airlines on June 6, 2016. Batumi International Airport hosted a celebration cocktail attended by the representatives from Batumi International Airport administration, SCAT Airlines, media of Kazakhstan, Department of Tourism and Resorts of Ajara.
Direct flights between Batumi and Aktau will be performed twice a week on Fridays and Sundays via Boeing 737 type aircrafts. SCAT Airlines already performs regular flights from Tbilisi to Astana and Aktau.
TAV Georgia provided services to more than 2 million passengers at Batumi and Tbilisi airports in 2015 with a 16 percent increase when compared to the previous year.
About TAV Georgia
TAV Georgia is an affiliated company of TAV Airports Holding. It started its operation in Georgia in 2005 year and will continue its activity until 2027 year as per the agreement in effect. Having received an investment worth over 100 million USD in Georgia, new passenger terminals of Tbilisi and Batumi airport were commissioned in 2007 year. Thanks to multimillion investment made in many different countries, long term experience in airport operations and efficient management; TAV Georgia has become one of the most reliable, stable and dynamic company in Georgia.
About TAV Airports
Together with its affiliates and subsidiaries, TAV Airports, one of the world's leading airport operators, operates Istanbul Atatürk, Ankara Esenboğa, Izmir Adnan Menderes, Milas Bodrum and Alanya Gazipaşa airports in Turkey. Tbilisi and Batumi airports in Georgia, Monastir and Enfidha-Hammamet airports in Tunisia, Skopje and Ohrid airports in Macedonia, Madinah Airport in Saudi Arabia and Zagreb Airport in Croatia are also operated by TAV Airports. The Holding also operates through its subsidiaries in other areas of airport operations including duty-free, food and beverage services, ground services, IT, security and operation services. Within the same context, TAV Airports also operates duty free, food and beverage and other commercial areas at Riga Airport in Latvia. Together with its subsidiaries, the Company provided services for 780,000 flights and more than 102 million passengers in 2015.